So, I am guessing you've decided on your next summer holiday destination and looking for outfit ideas?
Well, you've come to the right place as I am going to share my attempts with the travel summer gears I own, ideal for a mini-break when you only have a hand luggage allowance.
I am not looking to spend too much time on the process of modelling the combinations and would really go by the mantra of Rashitup!
Styling the impetuous you!
Before we move on to the summer outfit ideas, let me try to paint a picture of this astonishing place for you (as I couldn't resist talking about it, I am already so chuffed!) 😀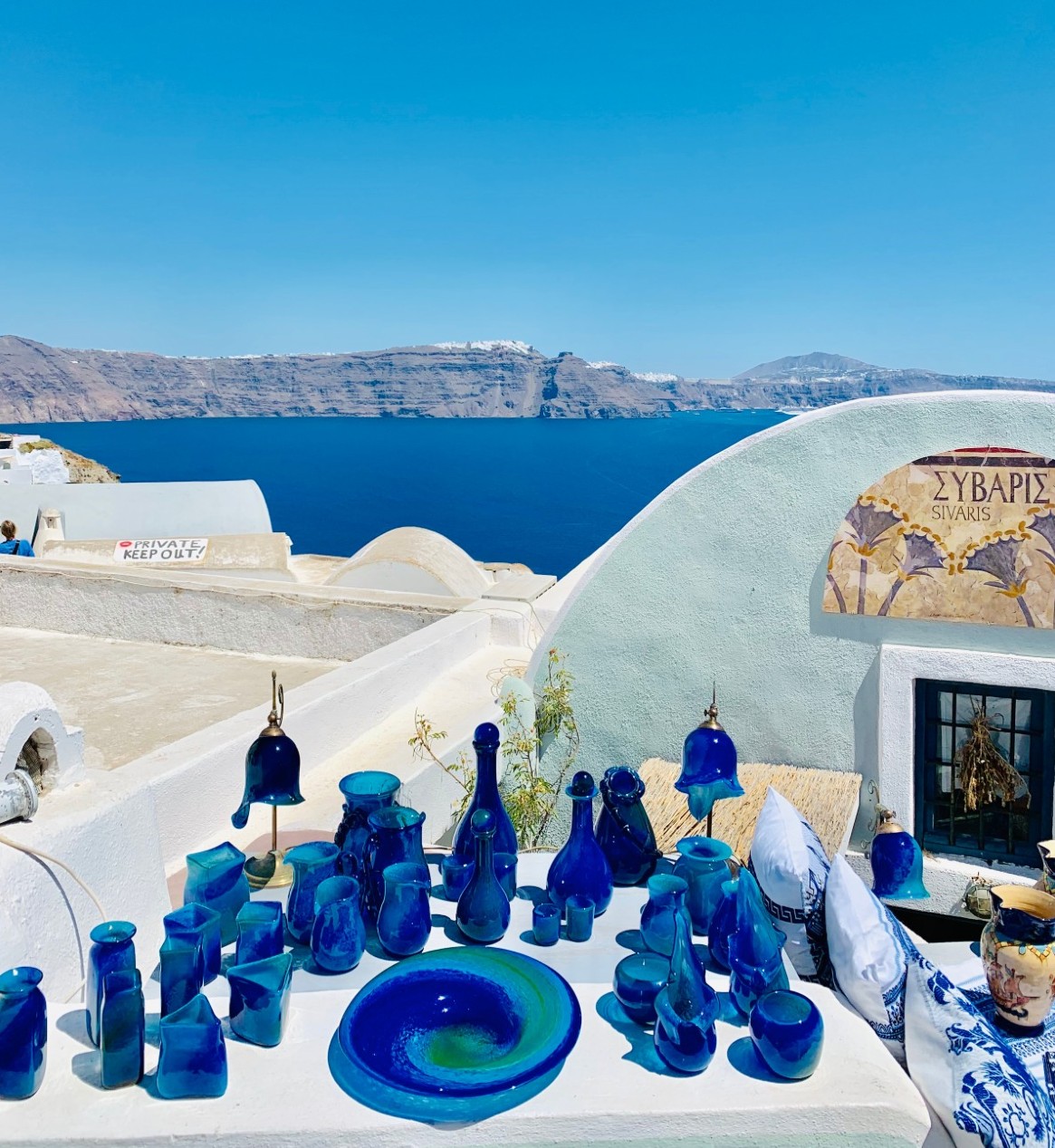 This probably is one of the most unique places in Europe! Picturesque and blissful!
which remind you of something…
…something you had seen before but not really,  something that leaves a 2-second glimpse that pinning down its reality is almost impossible, a sensation that fades away even before it could leave an impression!
something you had always envisioned for a fairyland!
Santorini, Greece.
The island is strikingly beautiful, lined with beautiful beaches in exotic colours of red, black and white sand!
It's like – a big white canvas thrown against a huge plash of swirling blue brushstrokes.
The mystical depths of Aegean with the caldera surrounding provides a beautiful contrast against the stunning whitewashed homes climbing to the cliffside.
The island also boasts rugged mountains and some of the best beaches in Greece!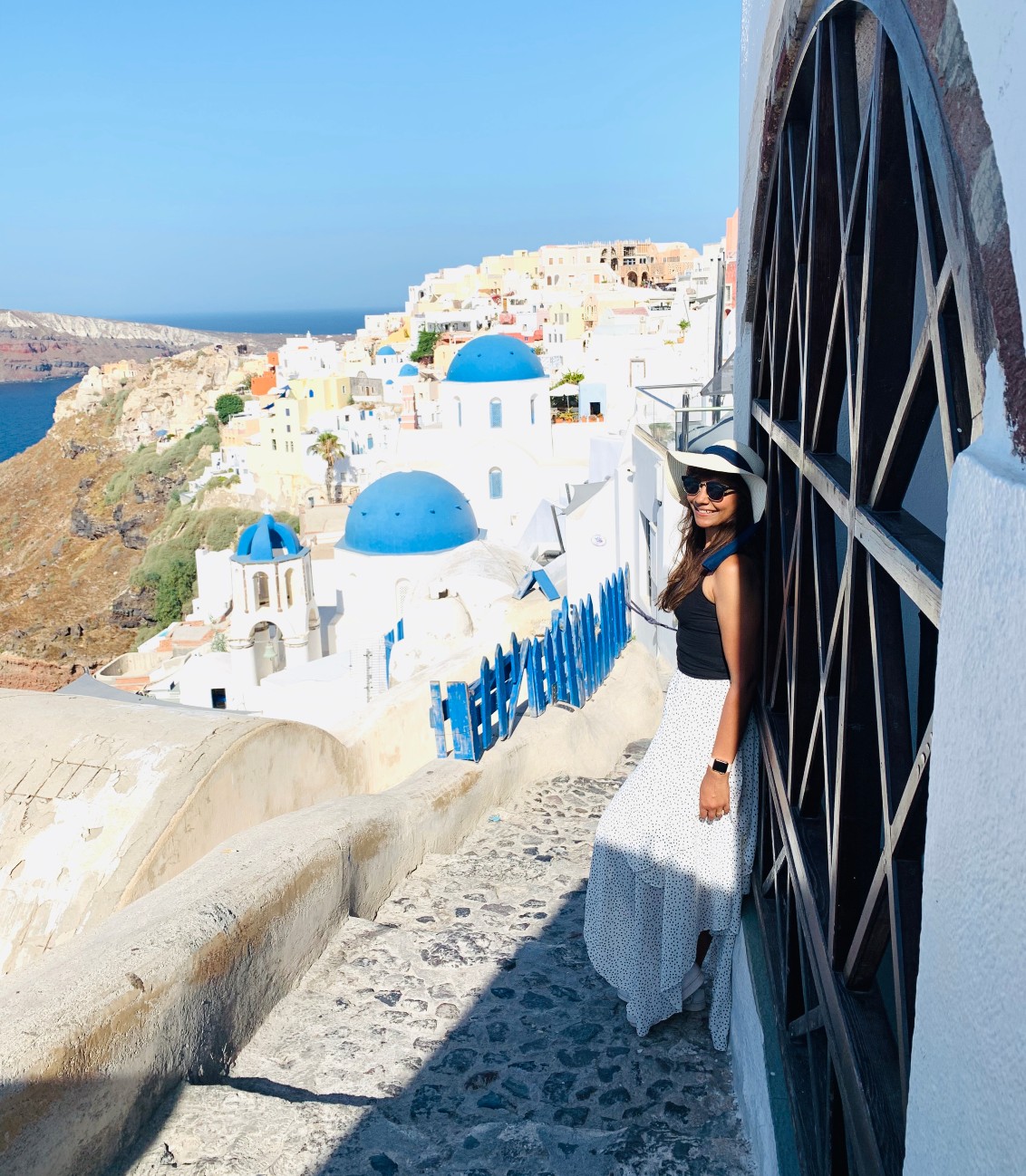 I close my eyes and I can still feel myself gazing at the glimmering candlelit terraces, flickers, even more, when the sun dips behind the cliff.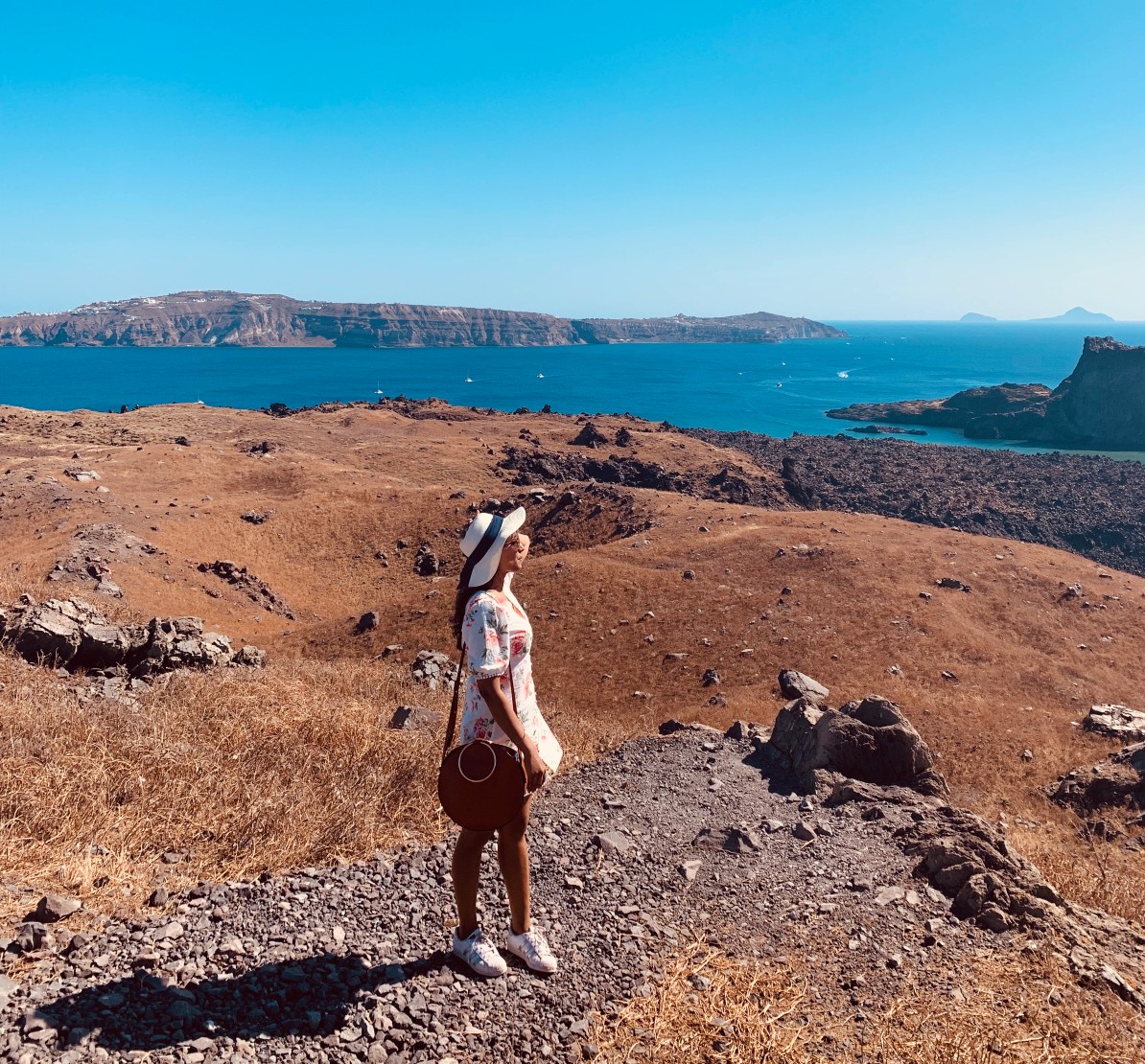 The larger than life sunset from the caldera still remains a mystery. A myth, A Mirage!
Santorini must be seen to be believed!
ooo.! I can't stop chatting about it, Can I?
Wondering when will I get to the outfit part? 🙂
Well, honestly, a no dress code is the code for any sort of holiday. ha!
However, still, your outfit should resonate with the vibe of the place, it really does play with your mood and gives you that subtle nudge you need to get into the skin of a traveller to feel the charm around.
I decided to keep it real casual and comfortable to start with, though topped it up with a dash of RashItUp to still be able to travel with style!
Have put together some of my favourite picks for you guys, ready to check them out?
Let's go for it! 🙂
Summer Holiday Outfit Ideas – 6 Rules You Must Remember!
#1. Color & Comfort – Game on!
Take all your neons out for a walk, rouge your holiday bag with hues of brights colours.
While Yellow makes me feel downright good, such a power colour it is!
Isn't it?
Tangerine draws me to the pit of fun! I'll show you in a bit… 😉
There is no real algorithm to style and it should come naturally, and, with summer, it's soo easy to ditch those extra layers to catch up with some effortless style.
So, bring out your florals, the yellow maxi gown, that cute lil orange dress you have been ditching for months, the bold prints and especially that chunky flowy skirt you were about to get rid of!
Let's get started on the outfits now.
Summer Holiday Outfit Ideas for 2019.
In love with this layered Ruffle Hem Asymmetrical Skirt from Boohoo, twirled pretty much in front of every mirror I passed by.
Paired it up with a simple black spaghetti-strapped top, works like charm for a scorching summer day. 🙂
What do you say?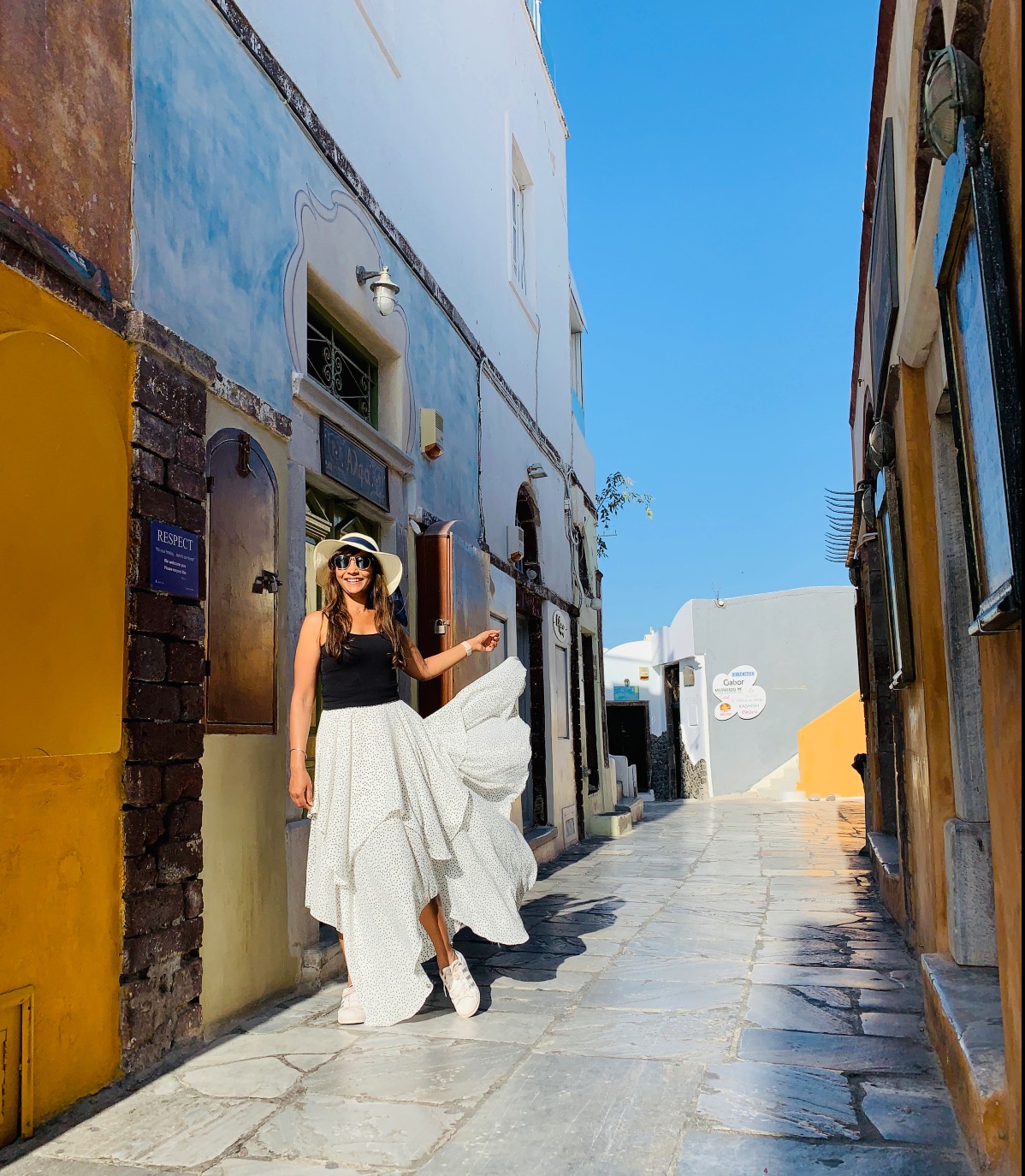 This floral white dress from Zara is damn comfy, breezy and so apt for travel.
Also, a bunch of blossoms on the dress means no accessories required! 😉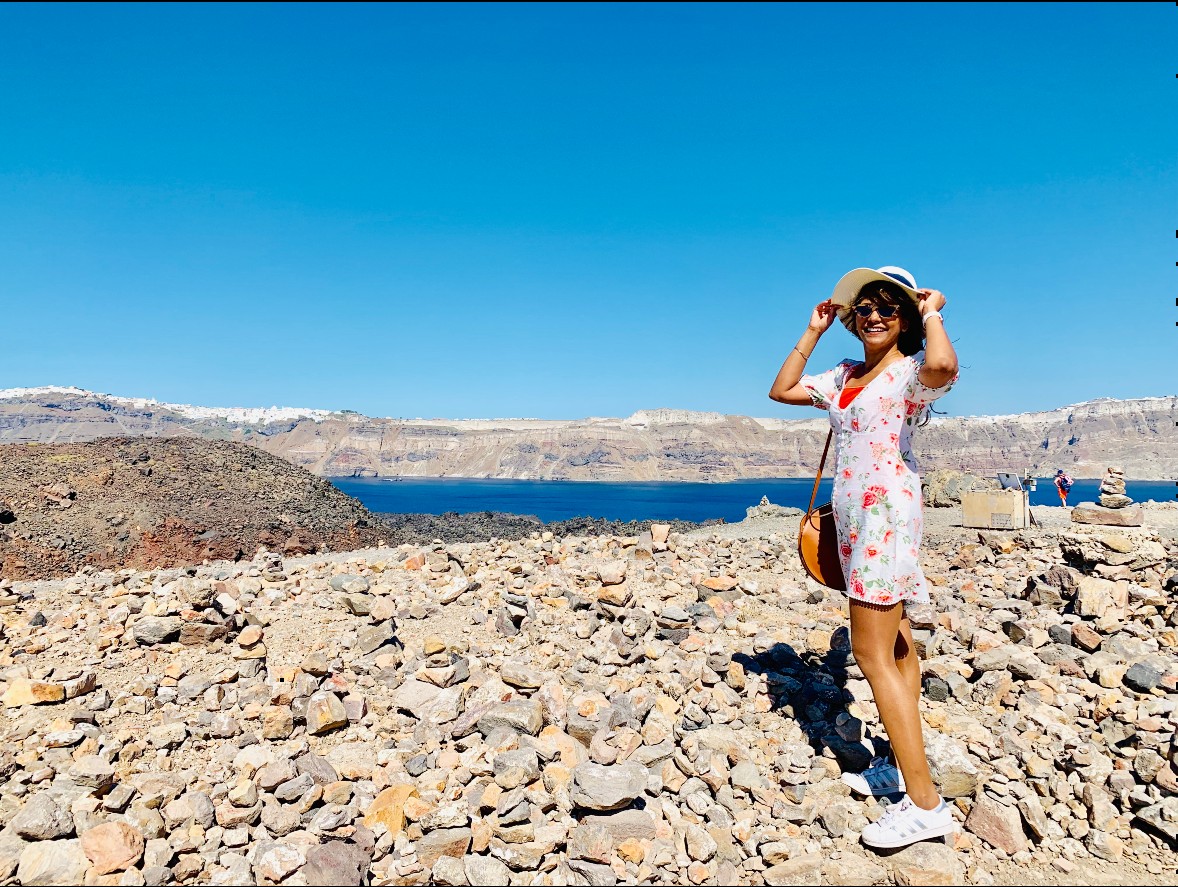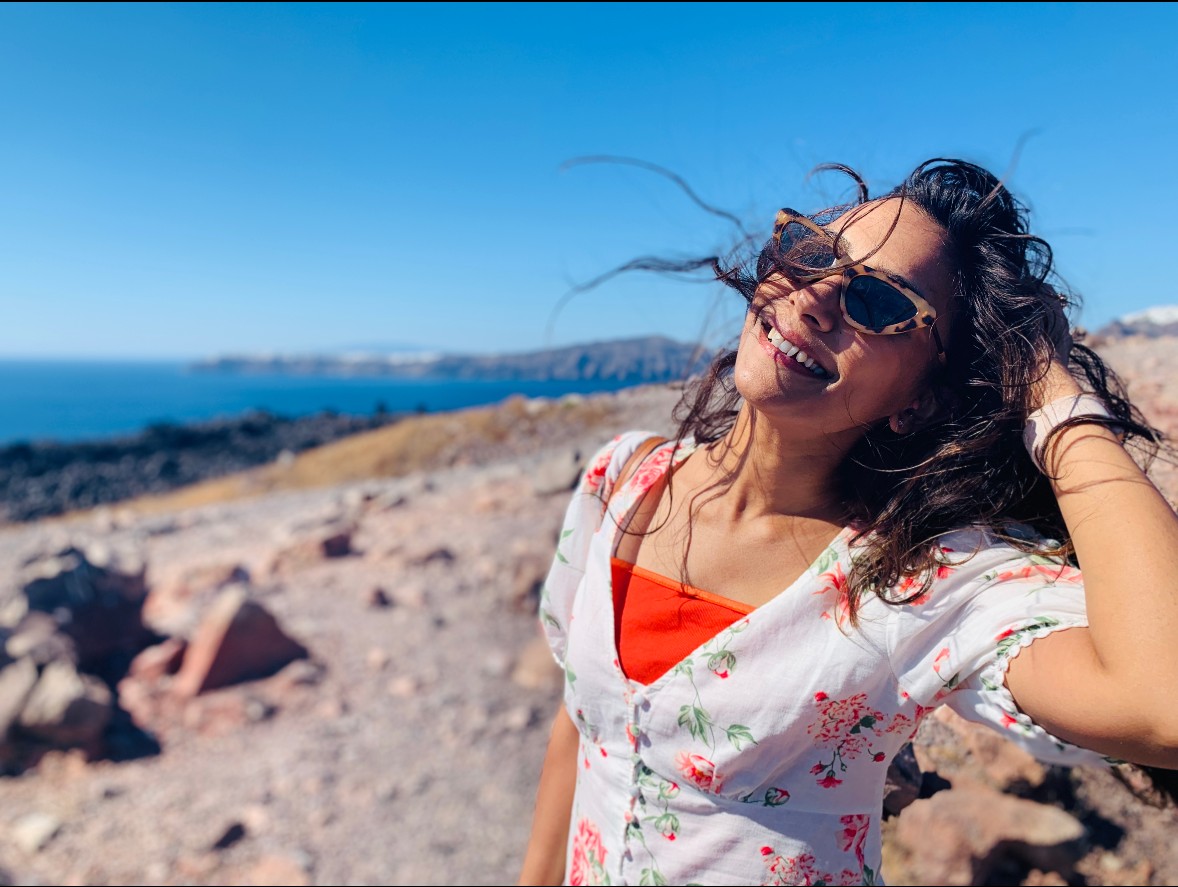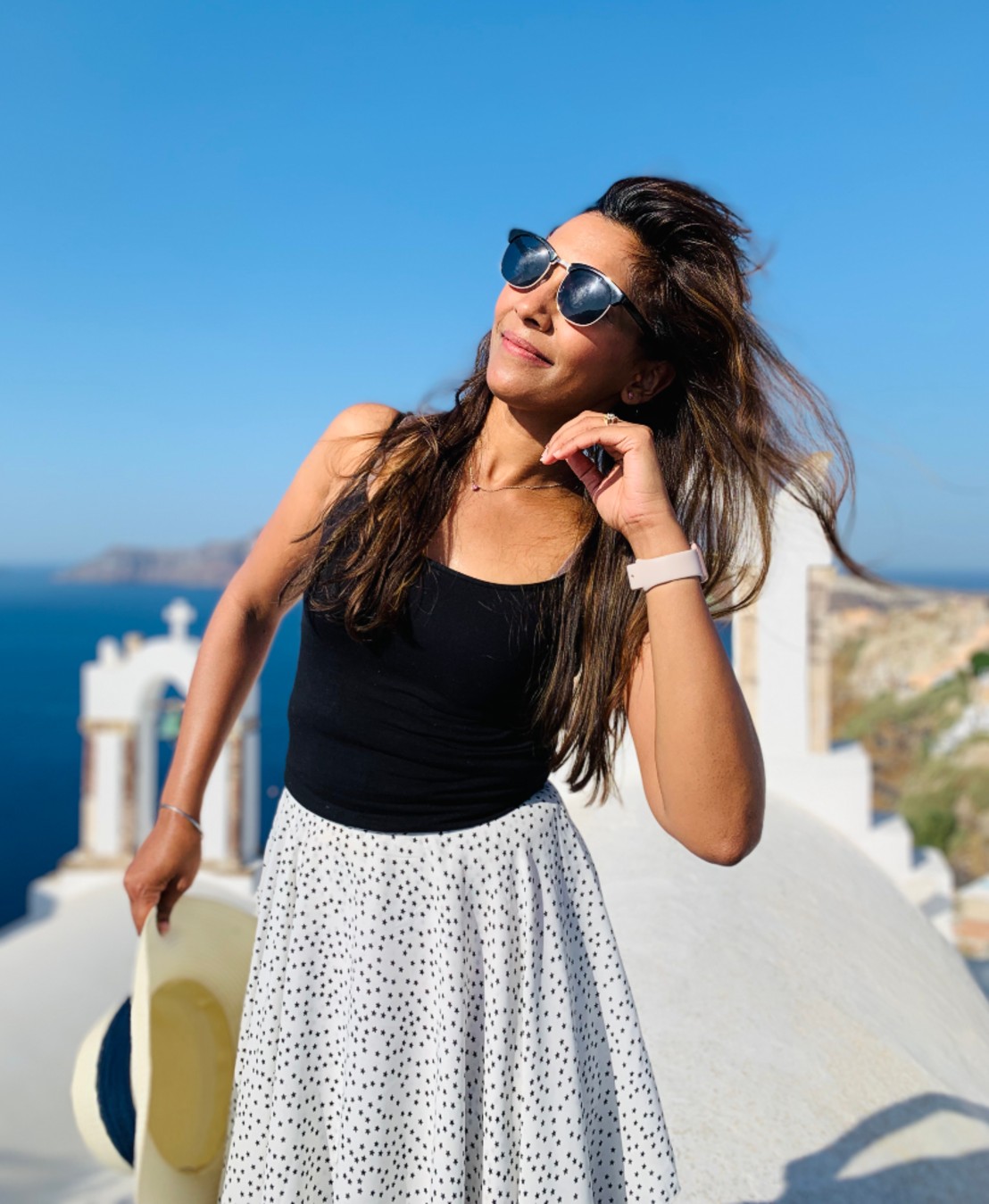 Look at me, relishing the moment in this ruffled piece of cloth.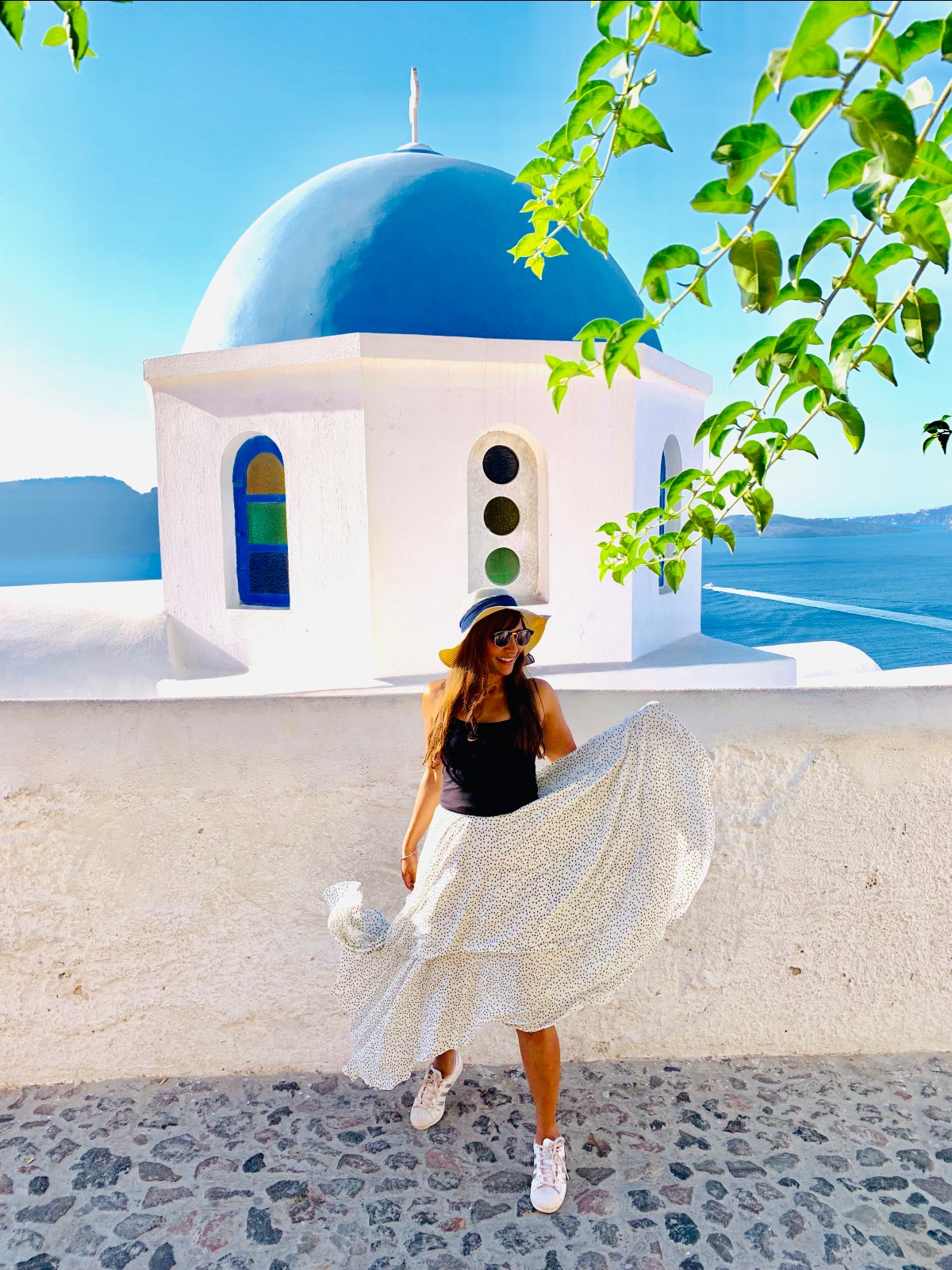 Paired up this cute lil white skirt from H&M with a plain yellow tee from Zara for a slouchy and chic travel look!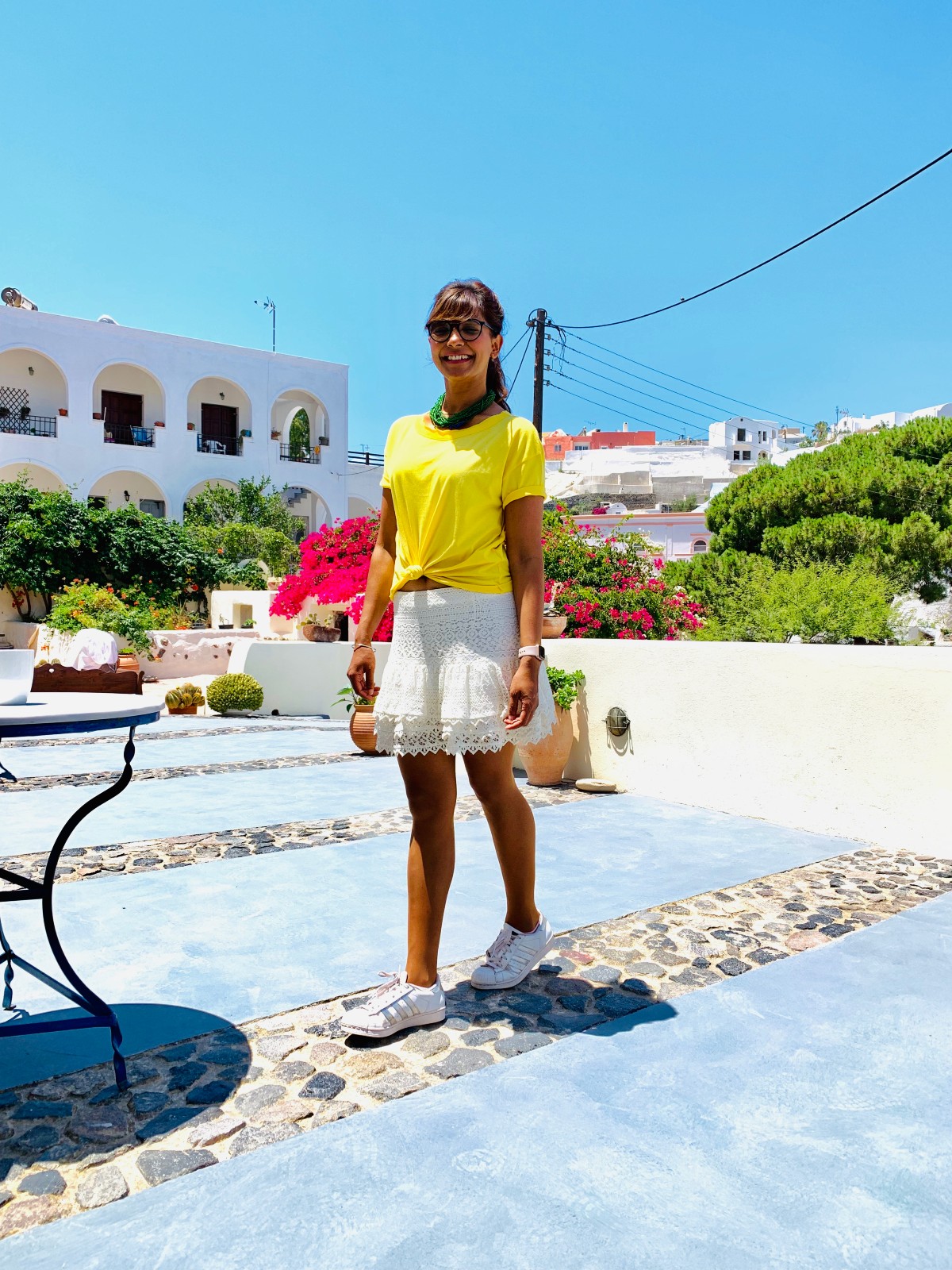 Afraid to look garishly girly?
Just keep it relaxed – go for some smart casuals.
A pair of denim shorts shuffled with some summer cool top is justly more than you'd need!
My summer staple is shorts with a breezy top or a basic tee!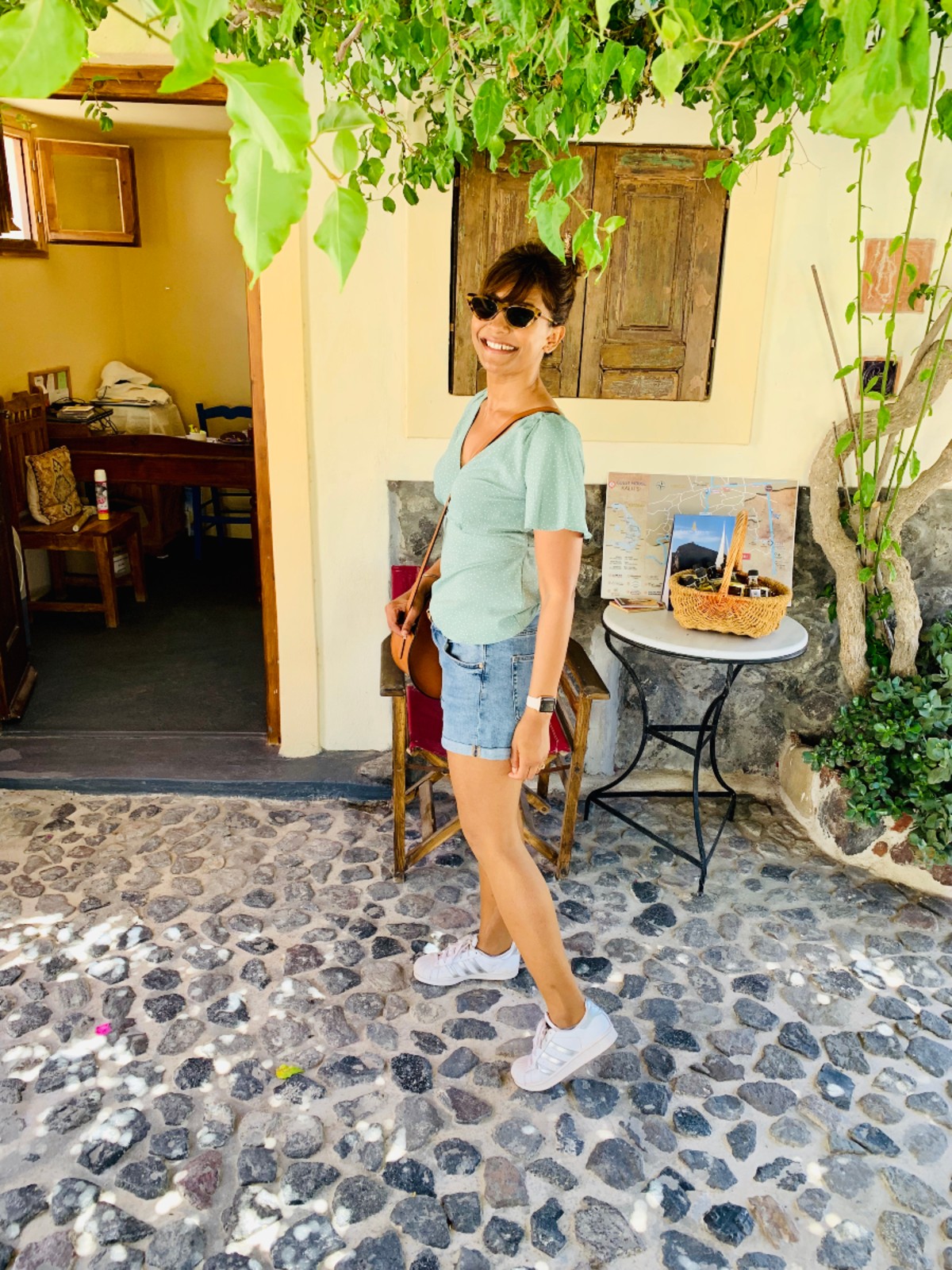 Here, snugging in bae's tee! <3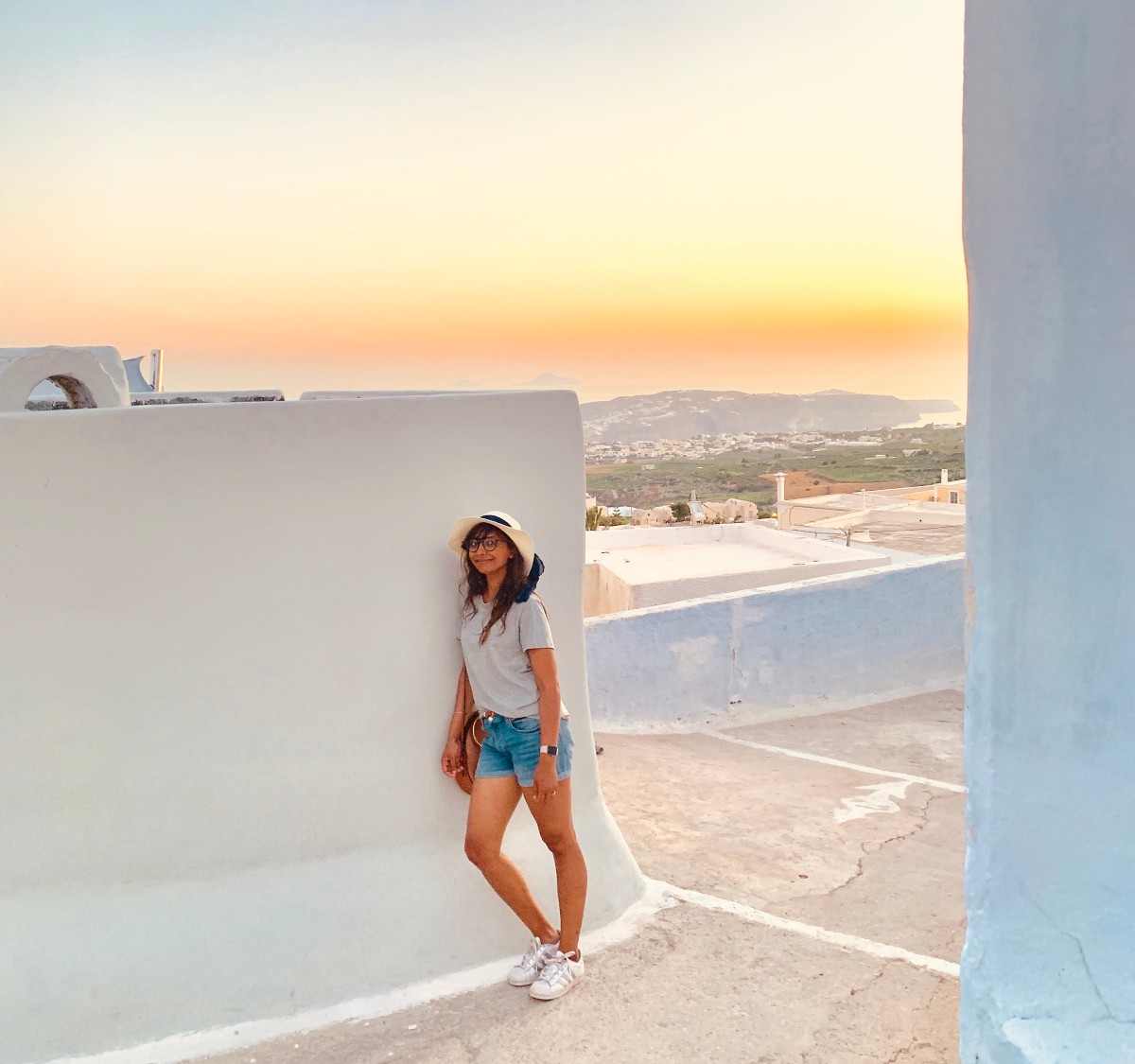 How kicky is this dress from Bewakoof!! <3 Here, I threw this short floral cape to complement the look.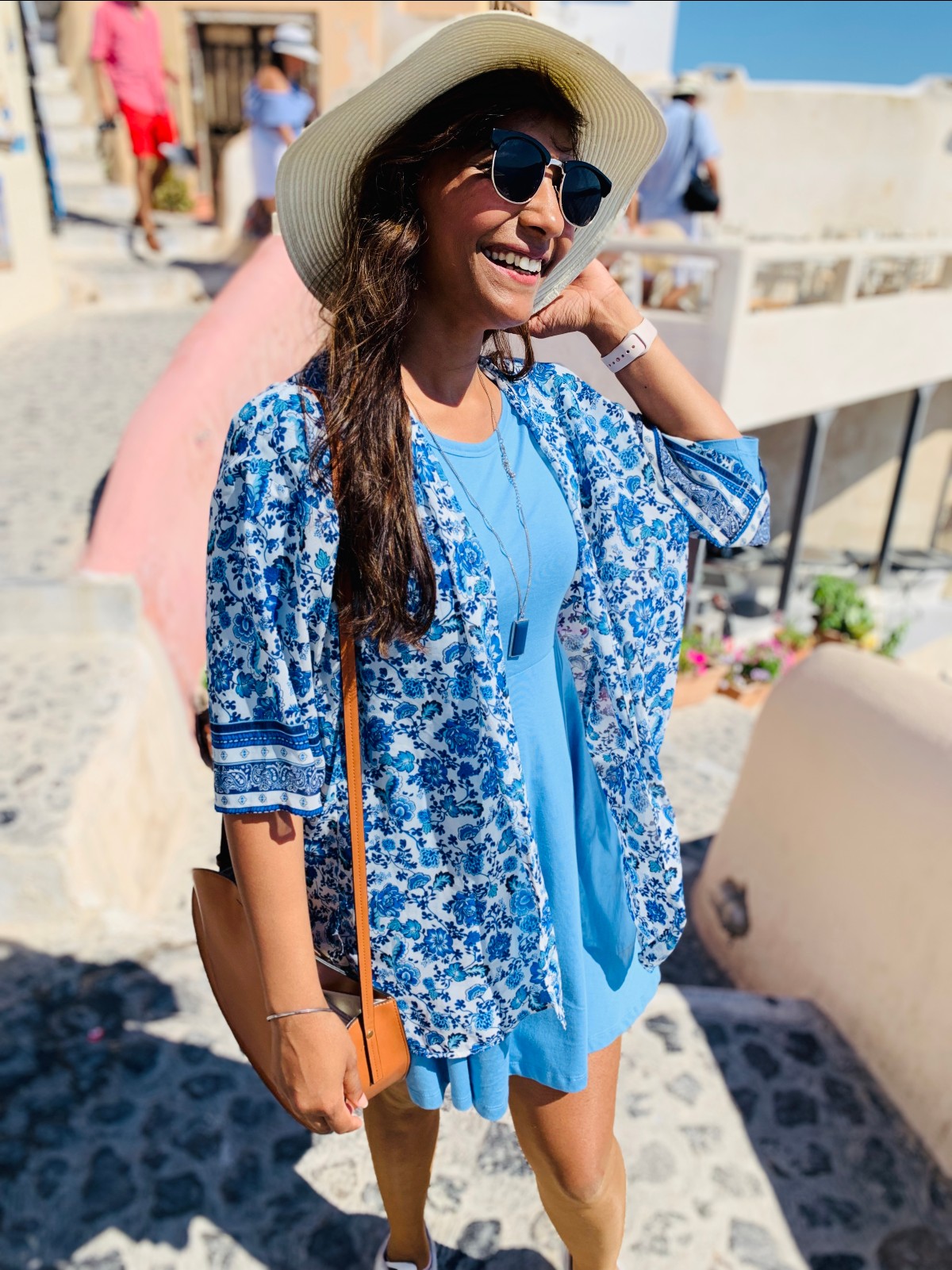 Ahhh!!! I could barely spot any other colour than white or blue and yeah blue and white again 😛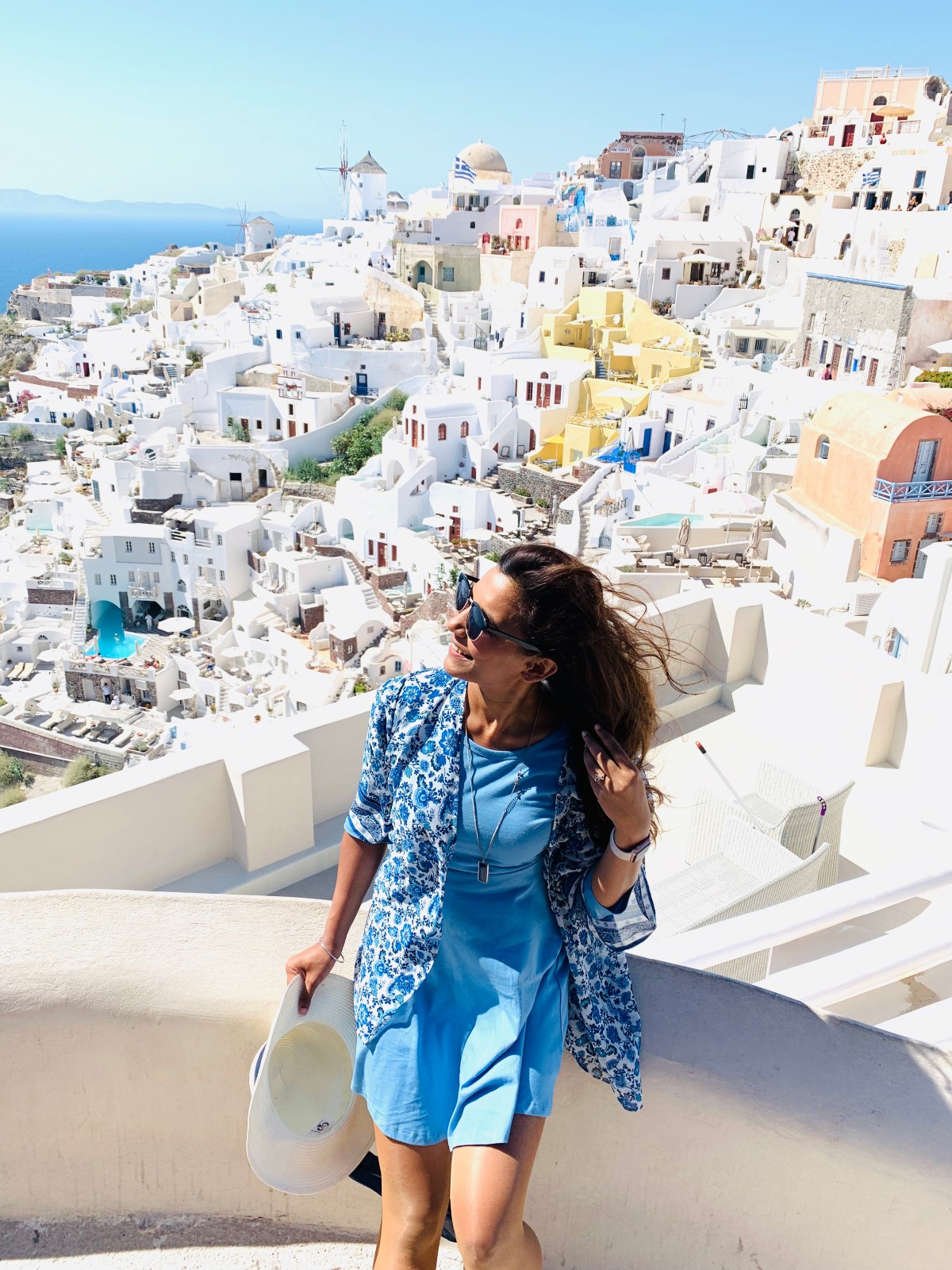 #2. A Sling Bag that goes with everything
No matter how much I love keeping a collection of all sorts of bags (those who know me would kill me if I lied), when it comes to travelling I really keep it light and simple as travel undoubtedly is my unabated passion over any other craving for fashion or food!
So here is rule number 2
Kick basics into high gear with smart accessories
The woven straw bag, wooden beads (love the collection from Mango), the plastic bags or the mesh net ones – get a bag which suits your personality and the purpose 😉
I chose the one which I could team up with all my holiday attires and has enough space for me to be able to carry all my niggly bits and pieces of travel essentials.!
Love how cheekily this bag has bolstered a simple look.
Teamed up this polka dot pale green top with a pair of basic blue shorts, completed the look with a tan belt and sunglasses from TopShop!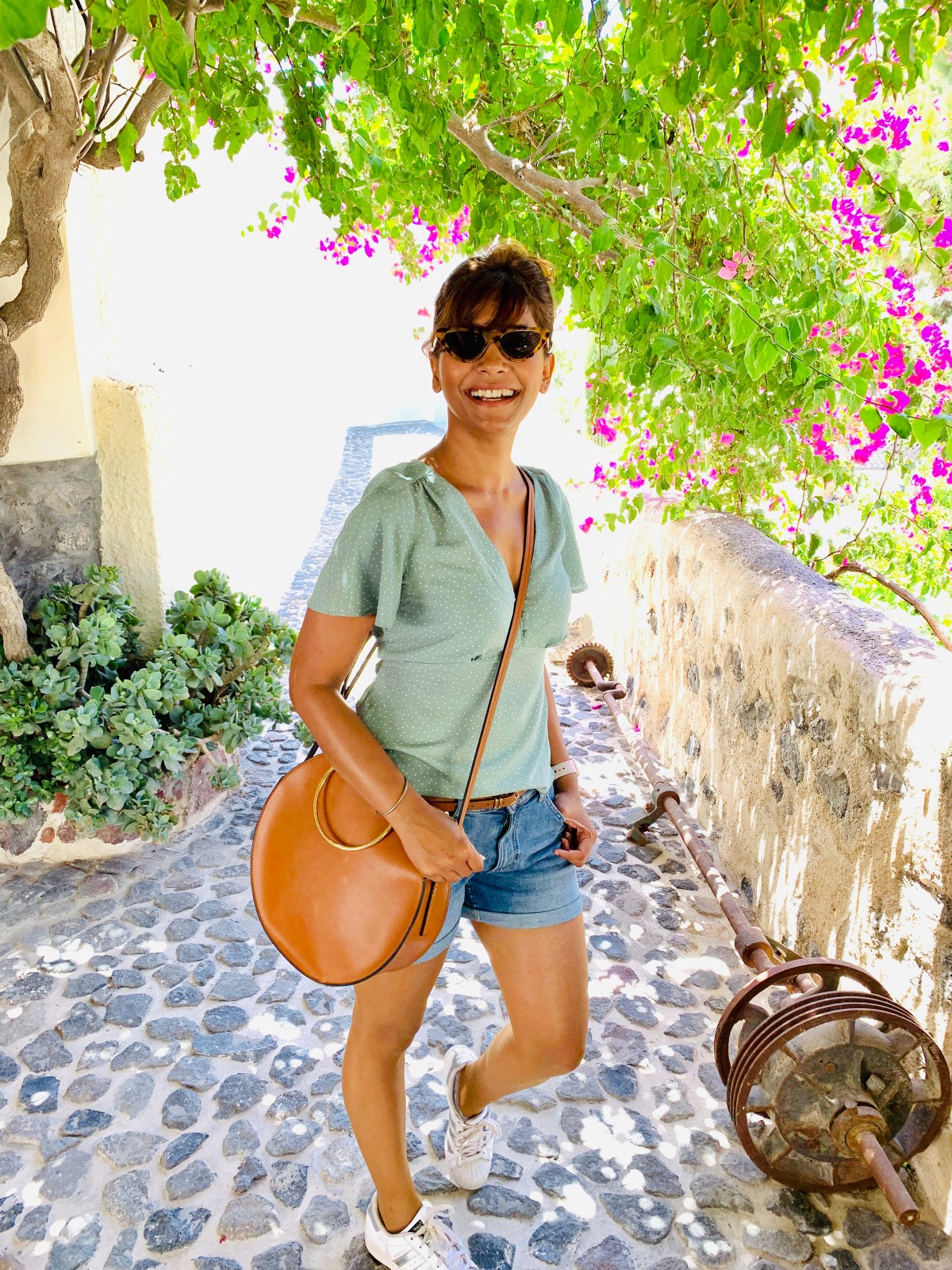 Now, this is my favourite Boohoo piece from the catalogue!!
Look how undemanding this wrap dress is, I pulled the same bag with the same sneakers and love the way this turned out.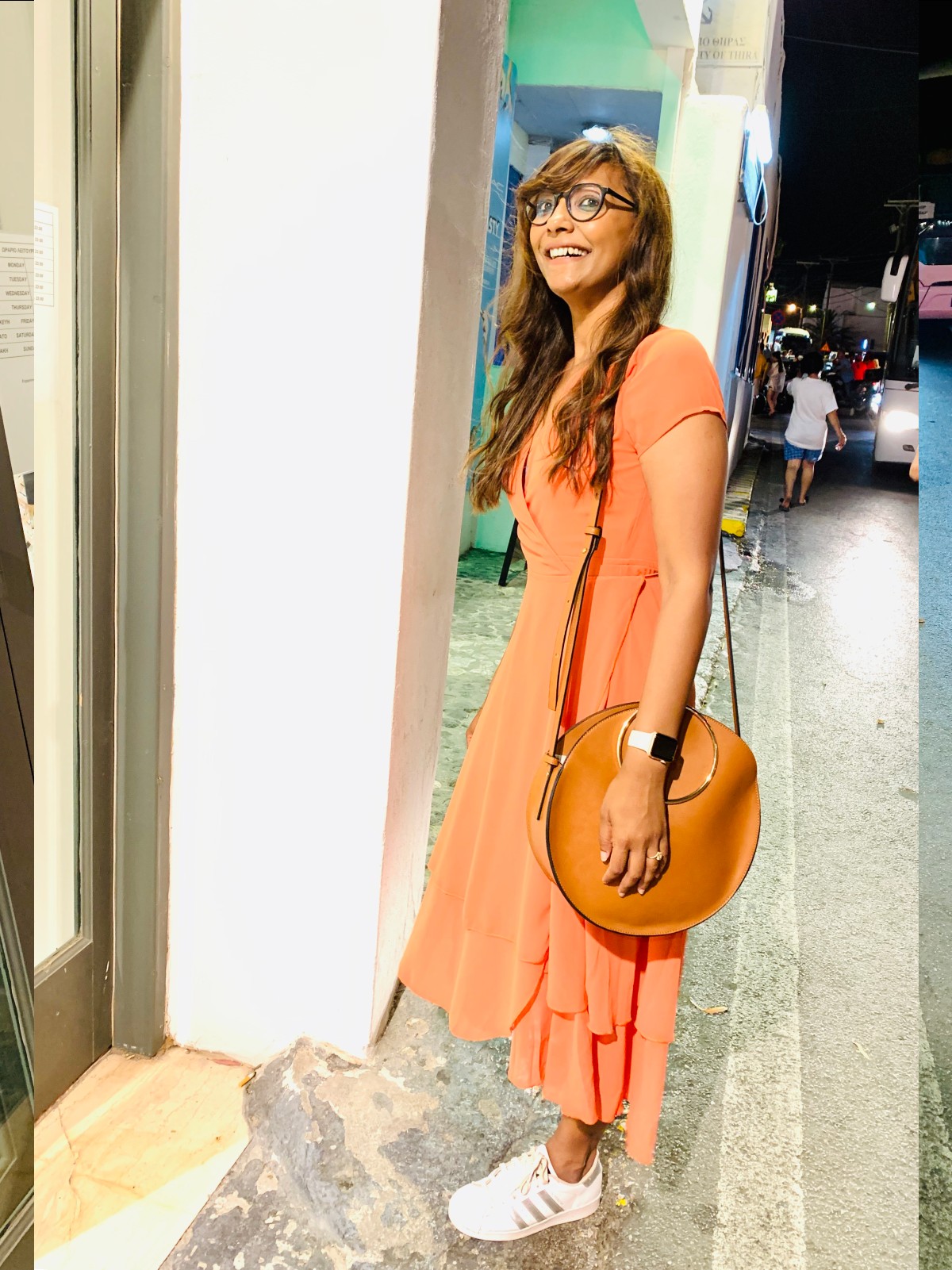 #3. A Saviour Summer Hat
Whilst sunscreen and sunglasses are utterly important, nothing helps you more than a hat when you have a sweltering sun gazing at you.
 A small shade just on the top of your head is all you need to get going.
Nothing but a nice, useful and stylish summer hat!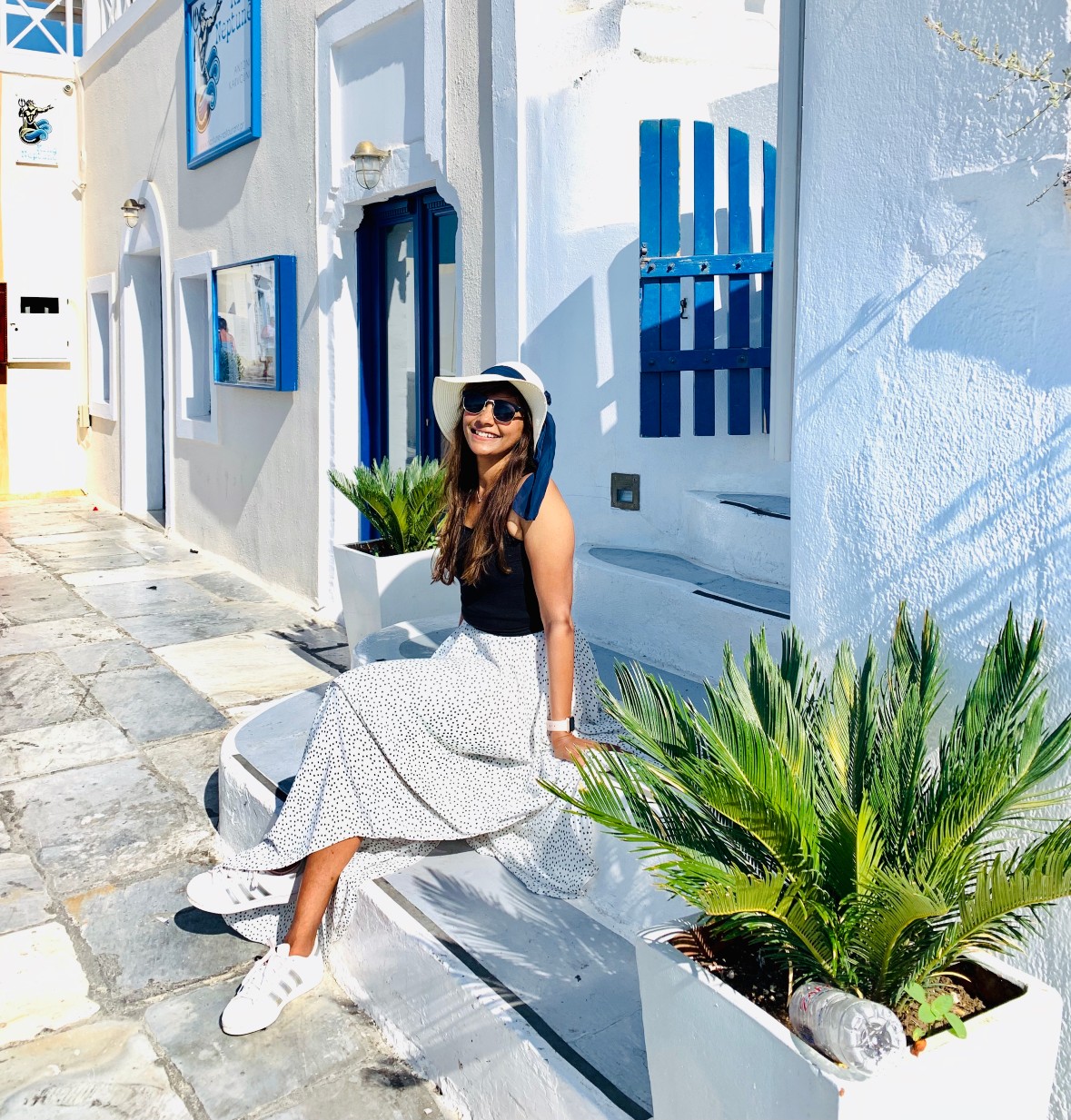 Bucket hat, Straw hat or a Baker boy summer hat, pick any of them to animate your summer look!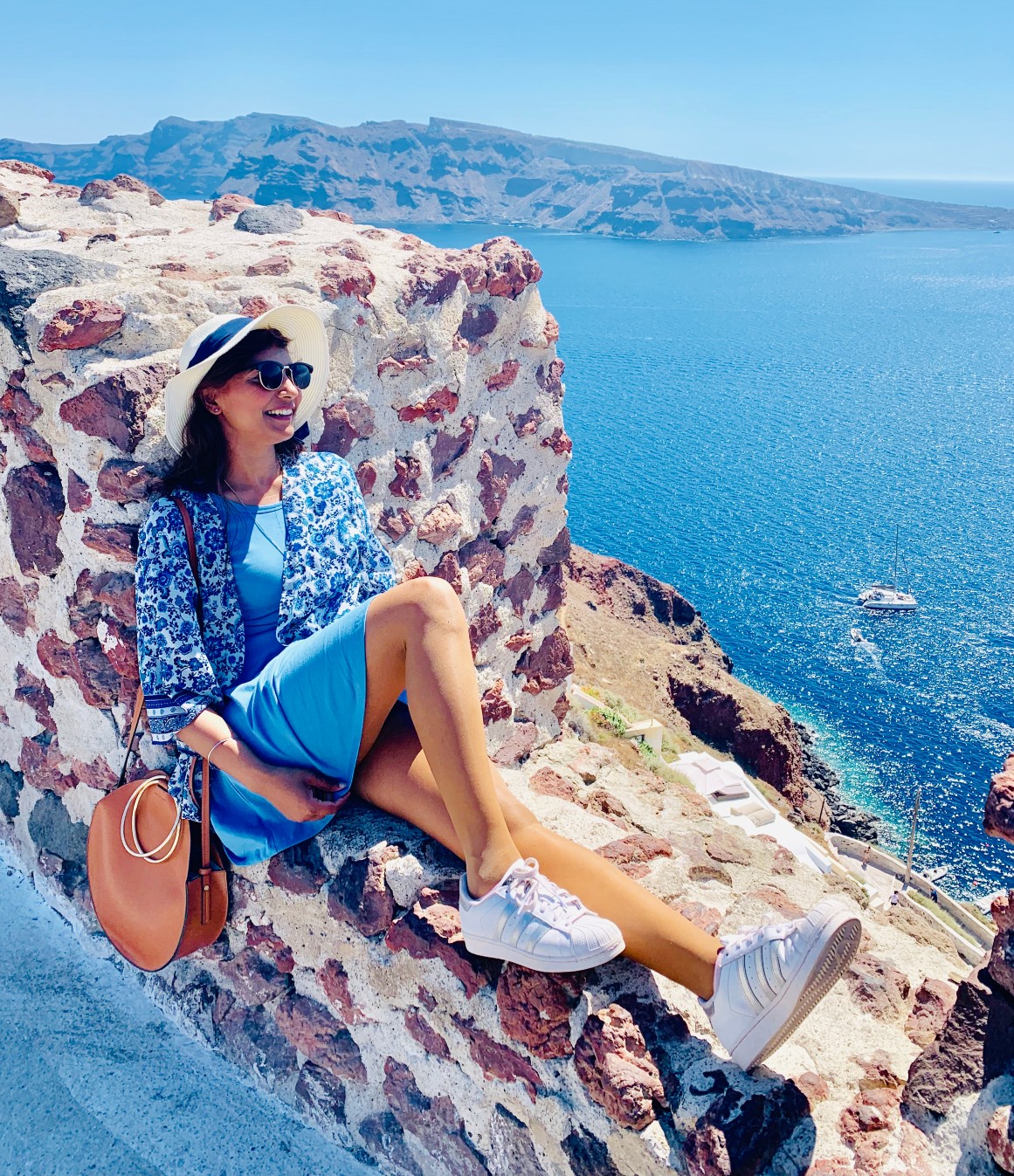 #4. Your Vibe
A mantra I truly endorse!
Your outfit should match your vibe, the vibe you feel, vibe you radiate, the vibe you wanna take back home!
Do you know what accentuates my style?
The Rusticity!
I choose simple outfits that help me feel who I really am..
I say that, but, I insist you get out of your jeans and top style rut – because that's not your vibe, NO! I won't buy that! 😉
Some outfits are universally flattering – you totally gotta try them, so experiment a bit but don't overdo it just for the sake of a perfect Instagram stereotype picture.
Because remember! You came here for a getaway from mundane not to get validated by a platform! 😉
Sending some warm and enthusiastic vibes your way.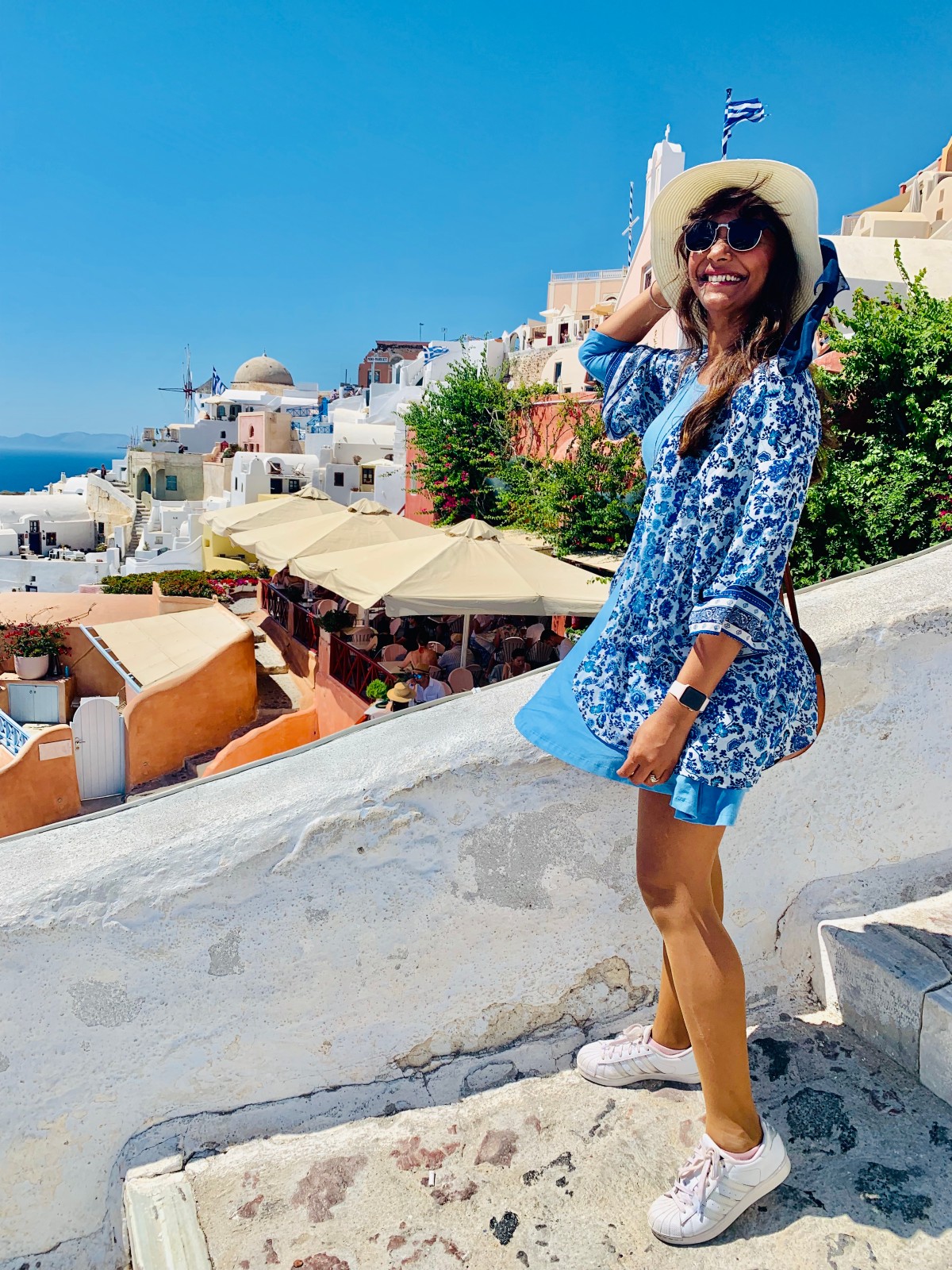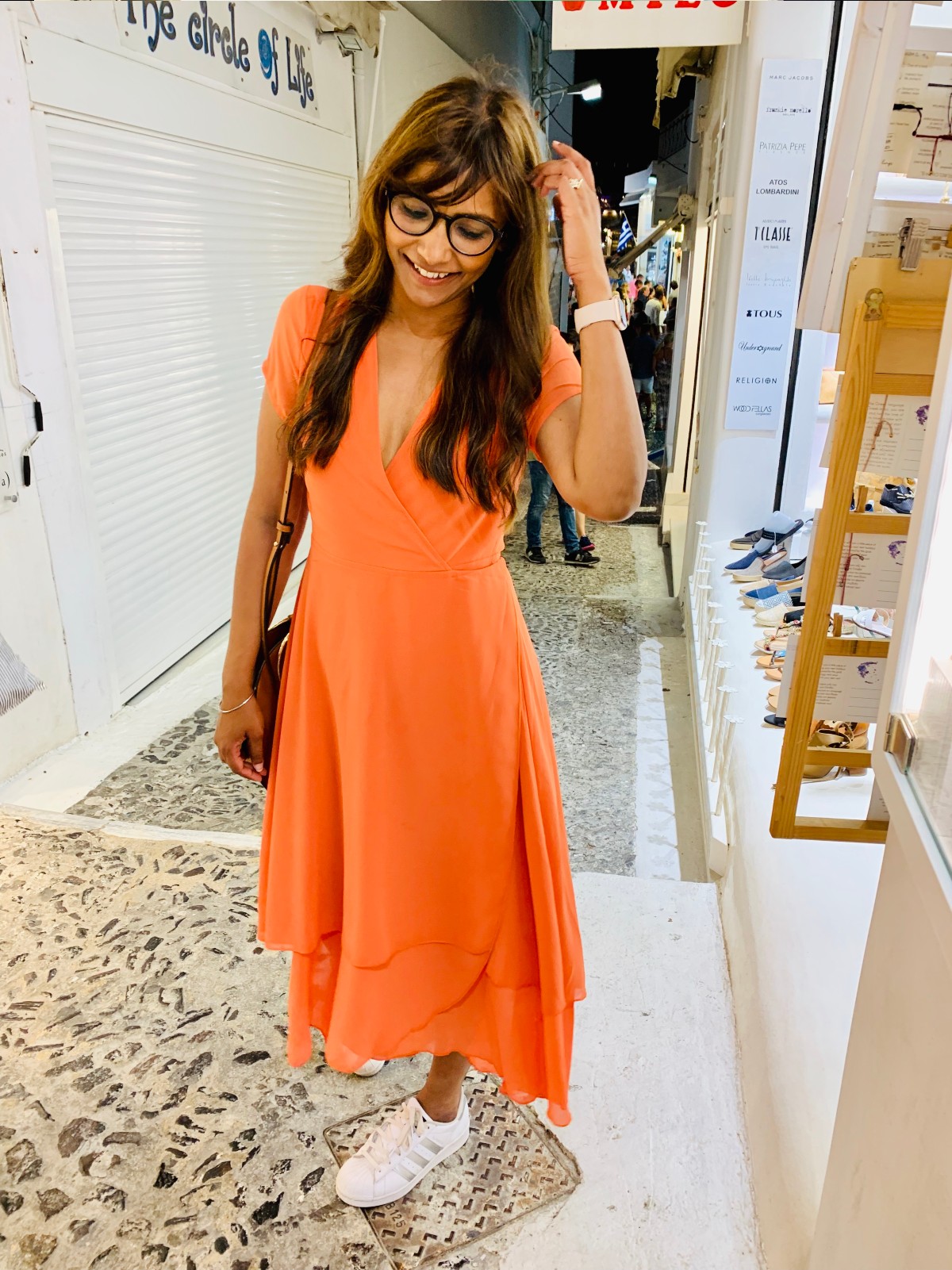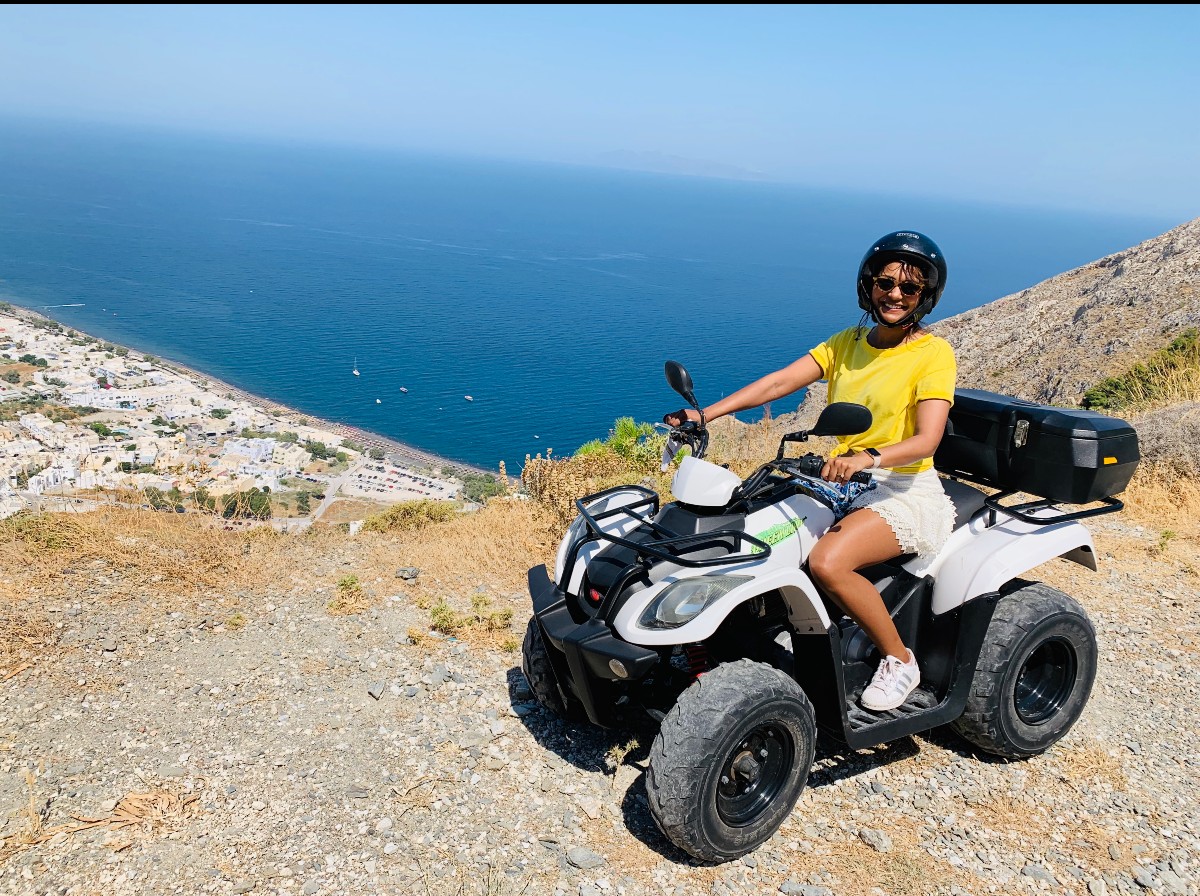 Does this ooze my vibe?
Do tell me in the comments below.
#5. Sunglasses, Sunscreen and a Tomato!
No brainer.. yeah?
Whilst we never forget to carry a stylish pair of sunglasses, often we ignore the importance of good sunscreen!
So, spend some extra bucks on the right sunscreen, and do remember to have 2 of them one for face and one for the body!
Why tomato though?
Although a good summer tan is an obvious sign of how good your holiday was, the awkward sunburns and tan make you look like a patchy monkey!
So, I always buy a couple of tomatoes from the local grocery store and follow a routine to apply a slice of it just before I sleep and first thing in the morning during my summer holidays!
It's so easy and totally worth the small effort!
Take this tip and you'll thank me later 😉
#6. Shoes
You know my love for shoes!
However, when I travel, I just can't do without my go-to sneakers – to walk endlessly until my knees start to plead, and to be able to do all sorts of fun spins!
Squeeze in a pair of sneakers, a pair of very light flat pumps and beach sleepers and you are good!
Want to know what my Fun Spin was in Santorini?  This uber-cool Ride! 😀
If you are planning your next holiday to Greece you gotta hire an ATV!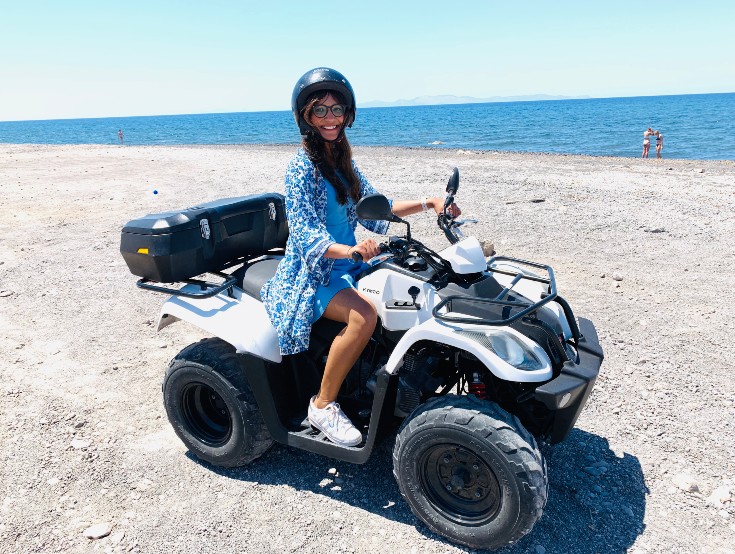 Here…
I wore this maxi dress for a stroll around, paired it up with these superbly comfortable slingback ballet pumps and yes the same bag 😉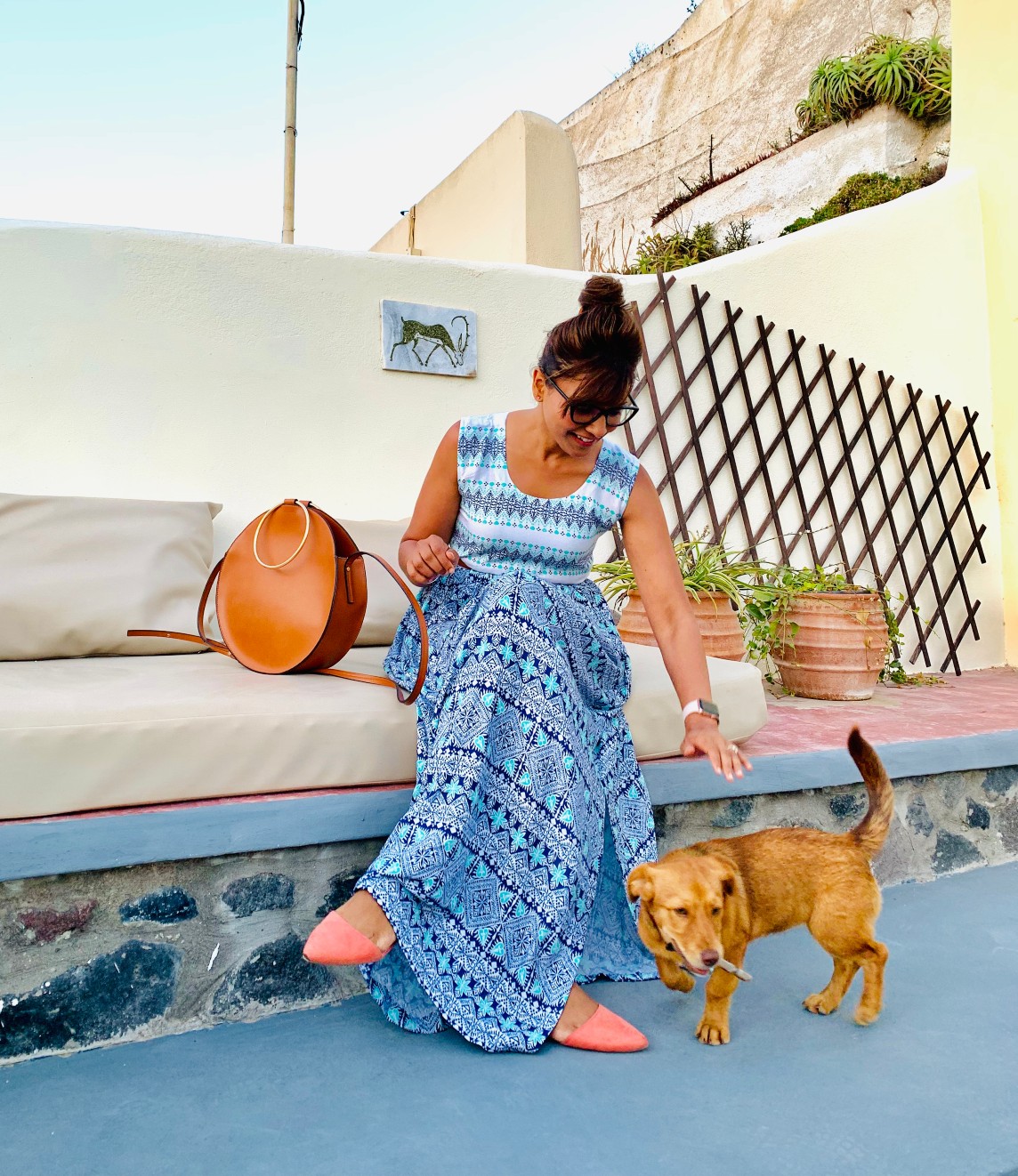 Pheww!
Over to you guys – hope you like the compilation! <3
I thoroughly enjoyed the process of writing this post!
Tell me your favourite pick from the lookbook, and also your summer staple!
Do share your thoughts and feedback, and also post some more summer outfit ideas in the comments for the readers.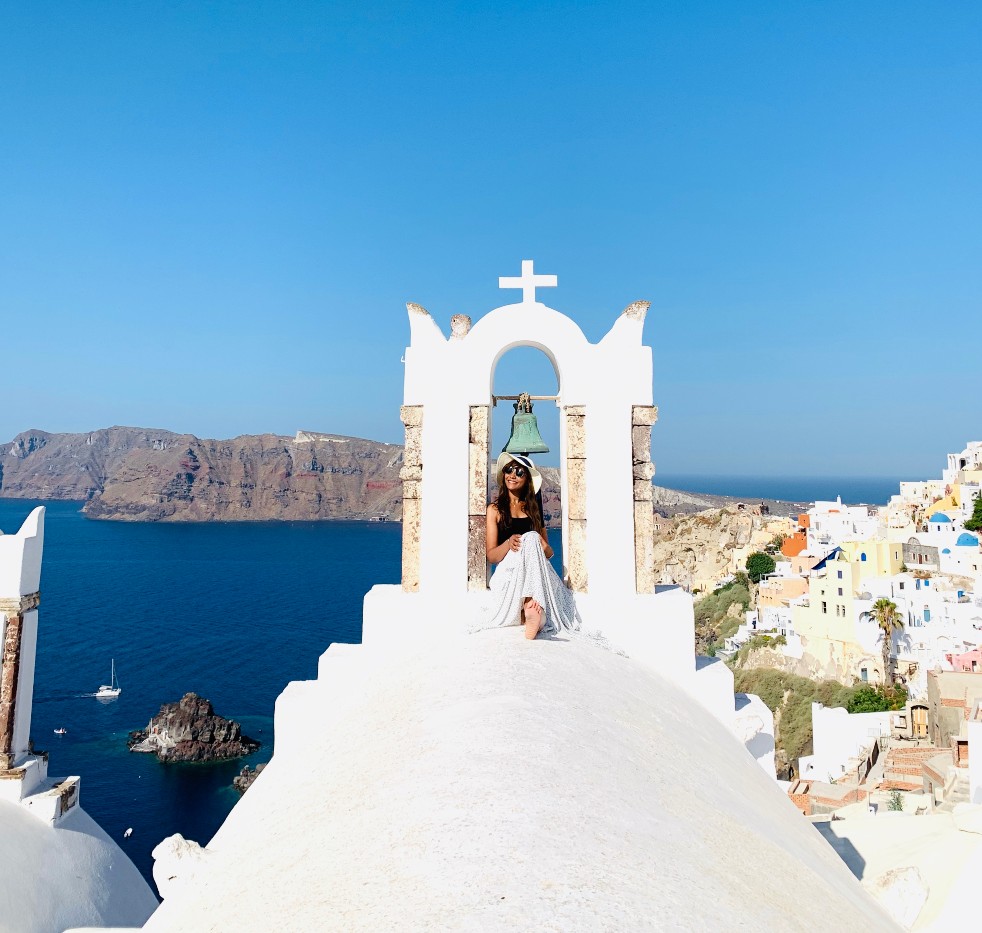 If you liked my post, do me a favour and share this post with your friends on Facebook, Twitter and Instagram.
Let's connect on Instagram <3
See you next time!