You'll agree with me when I say this:
You get more ideas to experiment with your winter outfits more than for any other season!
Well, to back my theory I'll start with the power of salient winter fashion accessories that can convert your basic winter outfit look to a stylish and dapper one.
The real fun is in the making of "that voguish look!"
But how?
How about some really easy go-to winter outfit ideas to repurpose your wardrobe in 2019?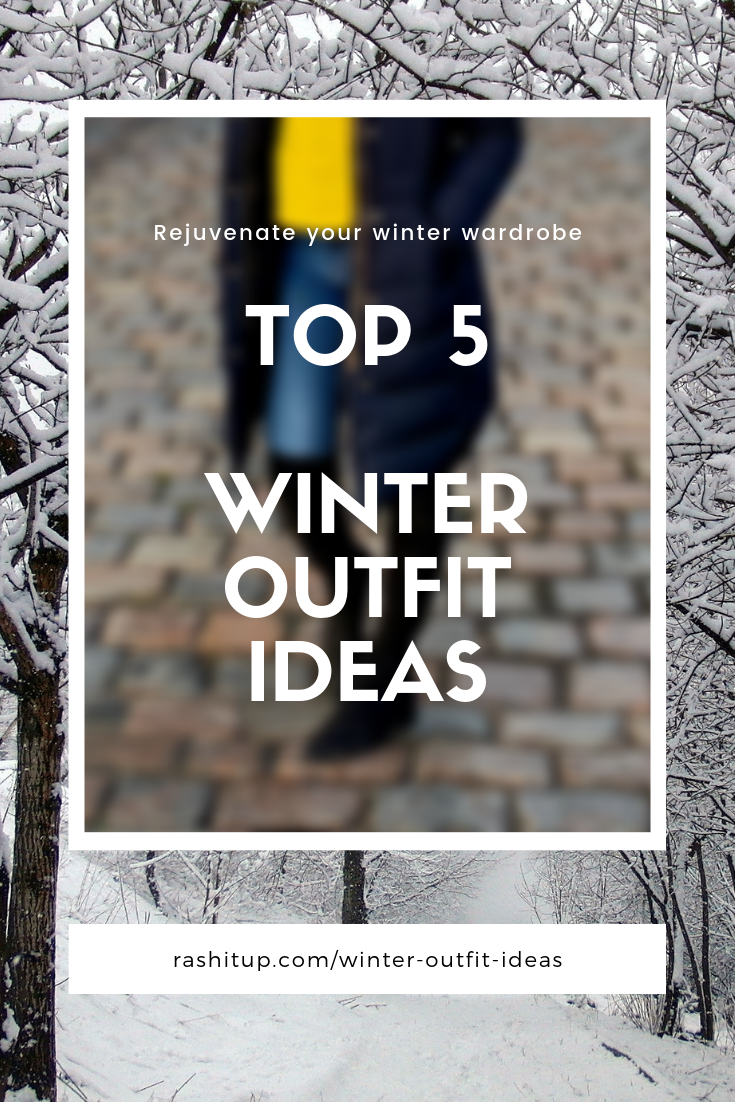 Well, we'll jump right to that in a bit.
But before that, I really need to express my daily dilemma and struggle with the pile of rags I own and the desire to always experiment and never repeat over so to say.
That does not mean you need to own a wide range of clothes but I am confident about my girls; they must've built an empire by now. So, we don't have to worry about the pre-requisites to start this process. 😉
Just like you, I am also super lazy when it comes to carving the style every morning for office, it's quite a daunting exercise.
We want to look stylish but never up for putting in that extra effort to get the oomph factor!
…just always need someone to rope us in and do the prep and if you didn't prep for the outfits the night before, those unlucky 4 rugged favourites of yours are going to walk the ramp today, again!
Now, often you've thought about this and the first thing that comes to your mind is "I really don't have nice stylish outfits!"
I have to re-build my wardrobe again – you ask a friend out for shopping just to quaff the excuse that you'd given to yourself of "not having anything to wear" with a bitter pint!
I don't have anything to wear! The fashion keeps changing all the time, all my money is wasted! How many times will I wear this dress? Again! I need to Shop!
How many pairs of clothes would you buy even if you convince that nagging friend of yours to come shop with you?
5, 6 or more?
…which would last for another week or a month…
And then?
You have a bounteous land of clothes for all the seasons, not to mention also for all the other 8 seasons not stated in any of the books. 😀
And again, you don't want to repeat that same ugly jumper you wore to some last supper meet, so you know where am I going with this…
Winter Outfits – let's make them work for you!
Yes! The power of styling!
…rejuvenate new life into your old winter clothes and slay!
Here are my top winter outfit ideas I have penned down for you based on what I have learnt over the years.
Try these on and your winter wardrobe will never feel out of fashion. When you do, don't forget to post your look on Instagram using #rashitup.
#1. Power of Nice Shoes!
Although I love keeping a diverse collection of shoes, I believe even if you have a couple of aces in your shoedrobe you are neat.
Just go with one coffee medium size boots, one black over-the-knee boots and a couple of pastel colours.
Yeah, pastels!
And you are sorted. 😉
#2. Fashion Fun with Jumpers/Ponchos
Knitwear comes in more embodiments than you can count, though oversized is still in vogue, there is no fashion to knitwear.
You can go for the striped sweater, a clunky turtle neck or an off-shoulder ultra comfy one, the slogan-written jumpers to the basic merino wool short sweater.
If you pair it with the right dress or skirt, it would surely add a different dimension to your basic shape sweaters.
Here, I have paired a very subtle cardigan from Zara (big fan!) with a summer salmon pink dress, adorned the look with a very bohemian style belt and a nearly black (my favourite brand for tights – M&S) and the result was dramatic (not kidding)!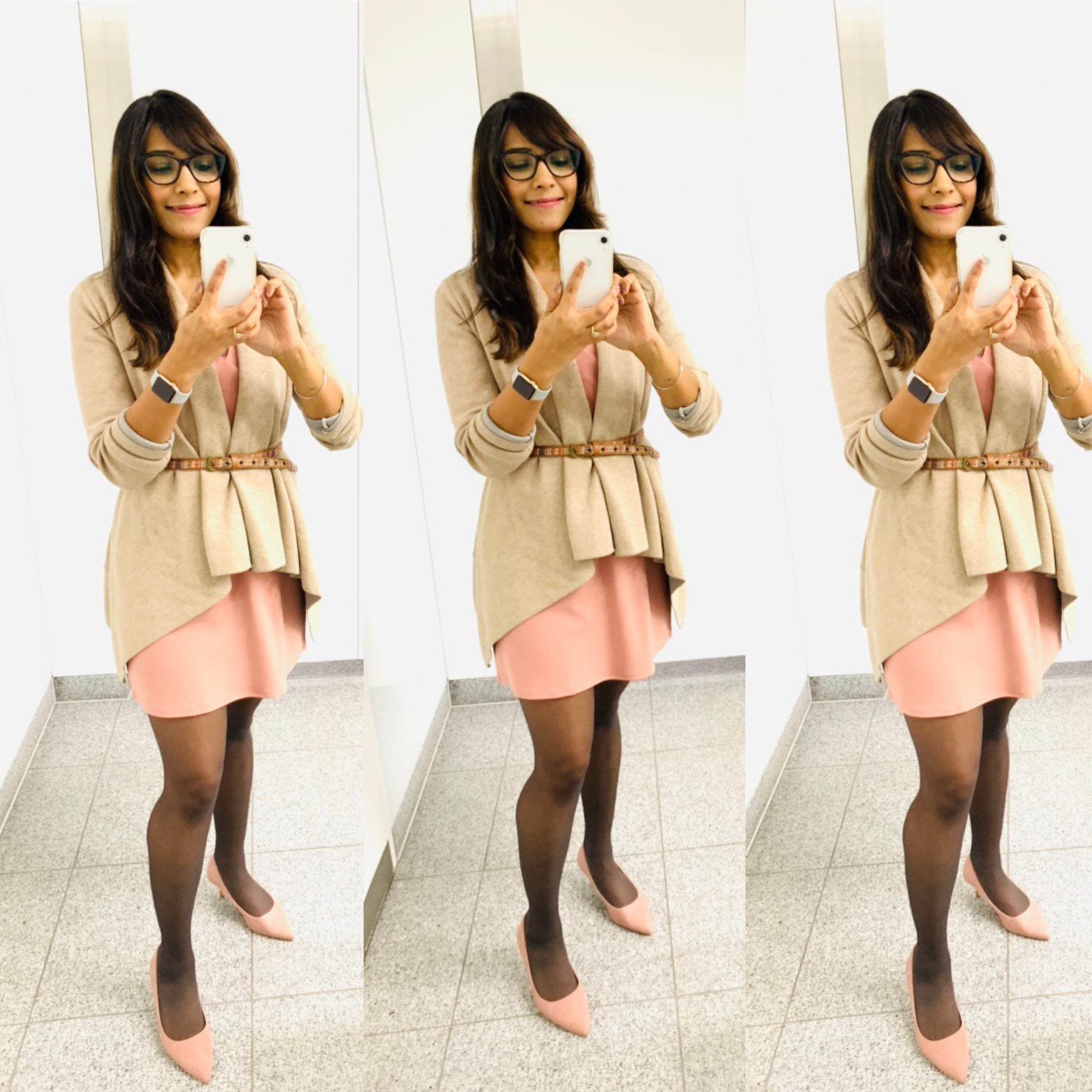 Coupled this snuggly short sweater again from Zara with a short skirt (guess the price in the comments below, you will be amazed!) enhanced the look with a navy choker from Mango (£3 on sale) and spotted tights from HnM for a chic office look!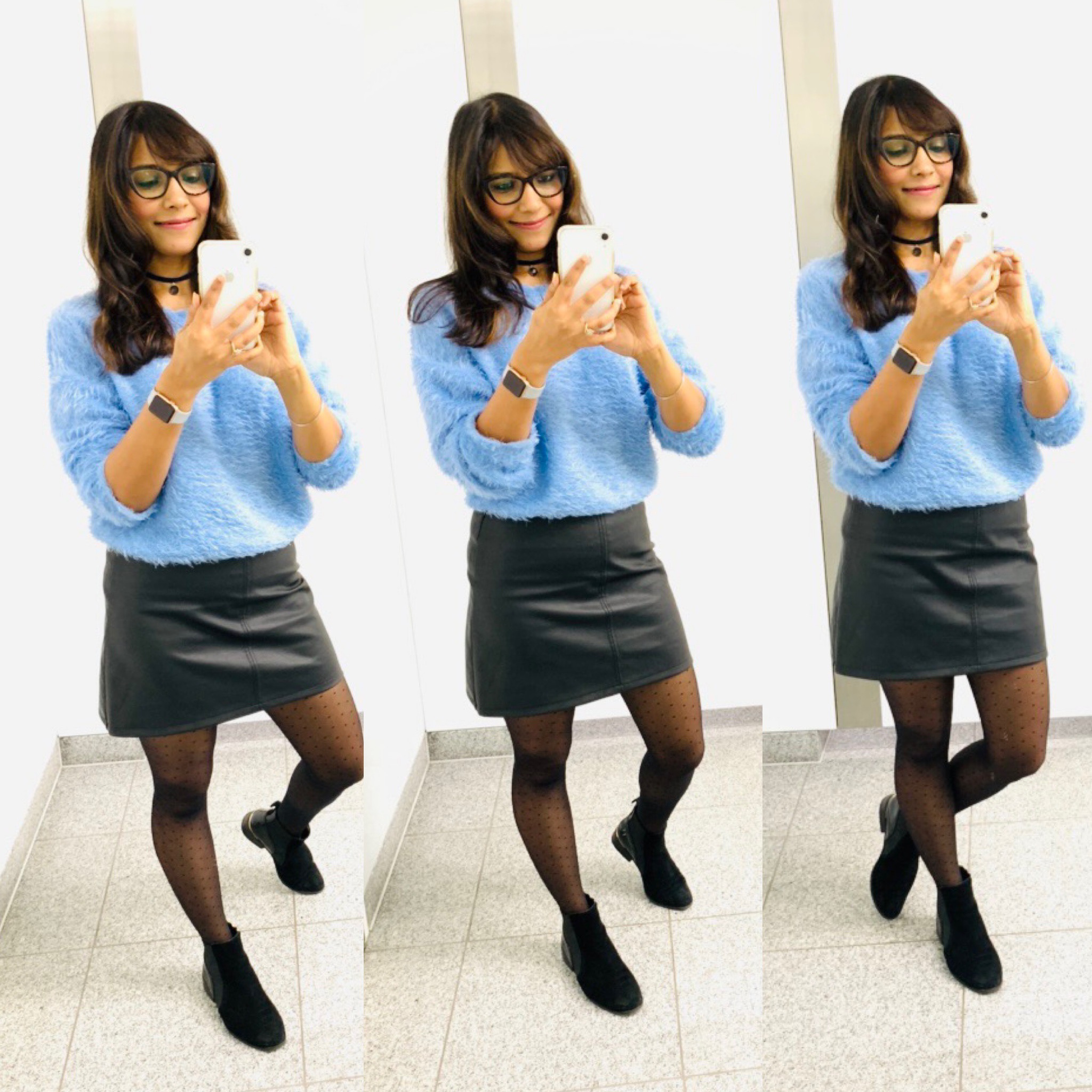 Again, styled this poncho from a brand called Rage (India) with black leather look pants, topped the look with mid-heel ankle boots from Debenhams.
https://www.instagram.com/p/BsqUflcHoQo/
Styled this turtle neck long basic grey sweater with leopard print red skirt and threw a belt to complete the look!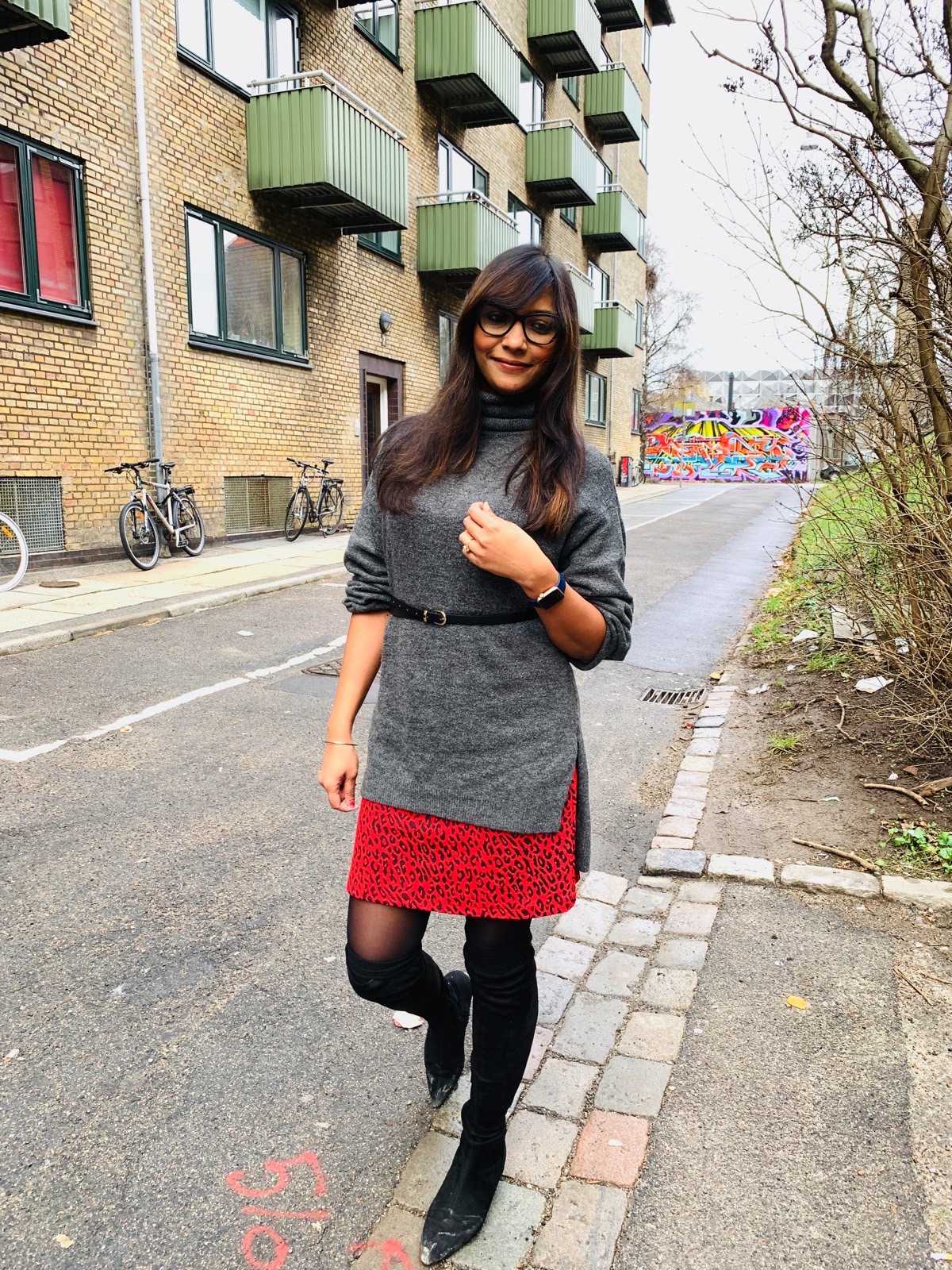 I love pairing jumpers with shorts or skirts, it's just so convenient to start with and you can wear warm tights underneath, can feel cosy and chic at the same time!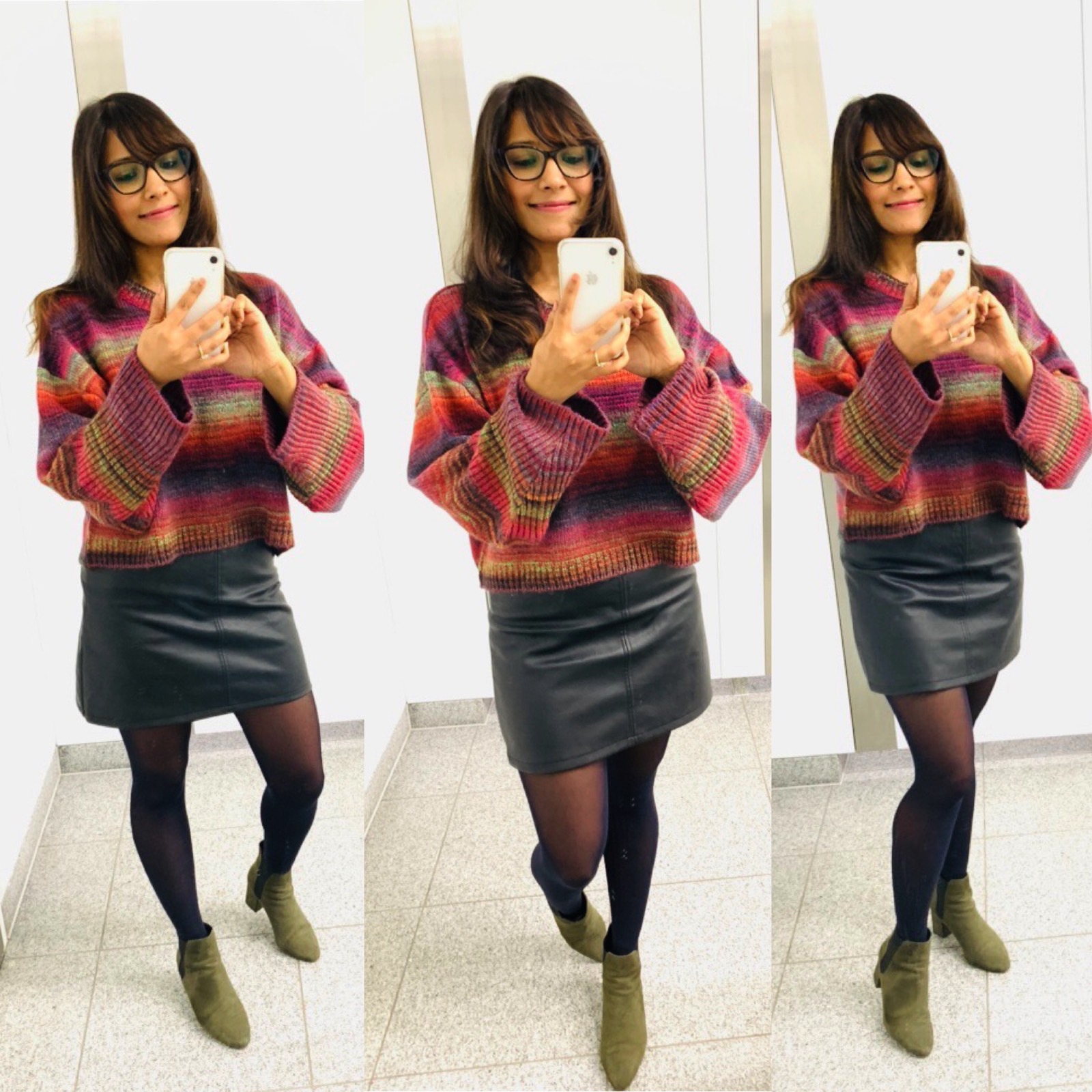 A very old green dress with even older brown boots, teamed up with all brown accessories and surrendered a scarf over and created this refreshing yet cosy look for office!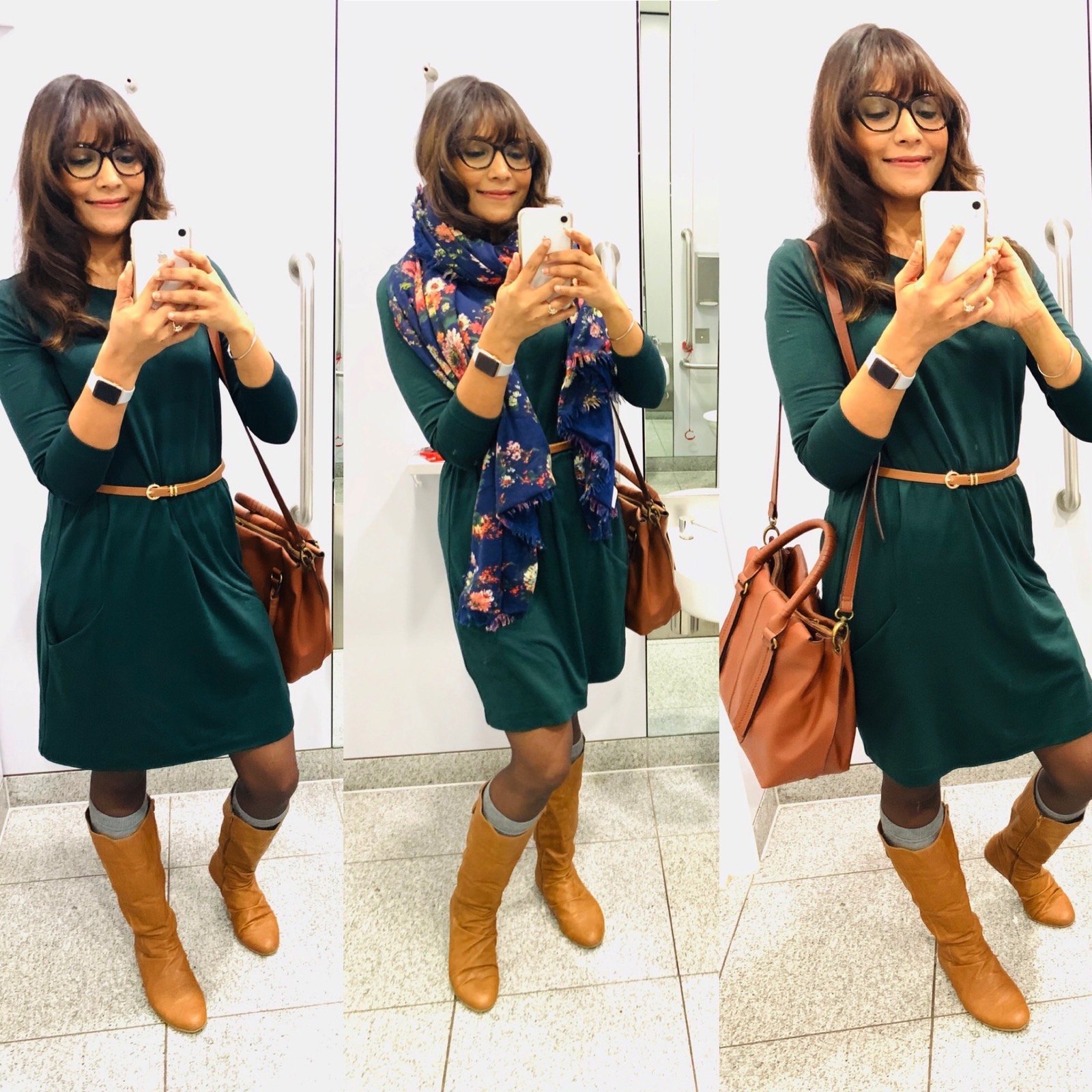 #3. Layer'em up
Must have guessed by now – the creativity is in layering!
Take out your dresses, sweaters, cardigans, boots and scarfs and just pick the best colours that celebrate each other companionship and that's it – really!
Layer the refined silhouette and prints underneath a cardigan, like a floral dress or a woollen long sweater.
Here, I am wearing a Mango floral pink dress with an emerald green cardigan and coffee-colored boots.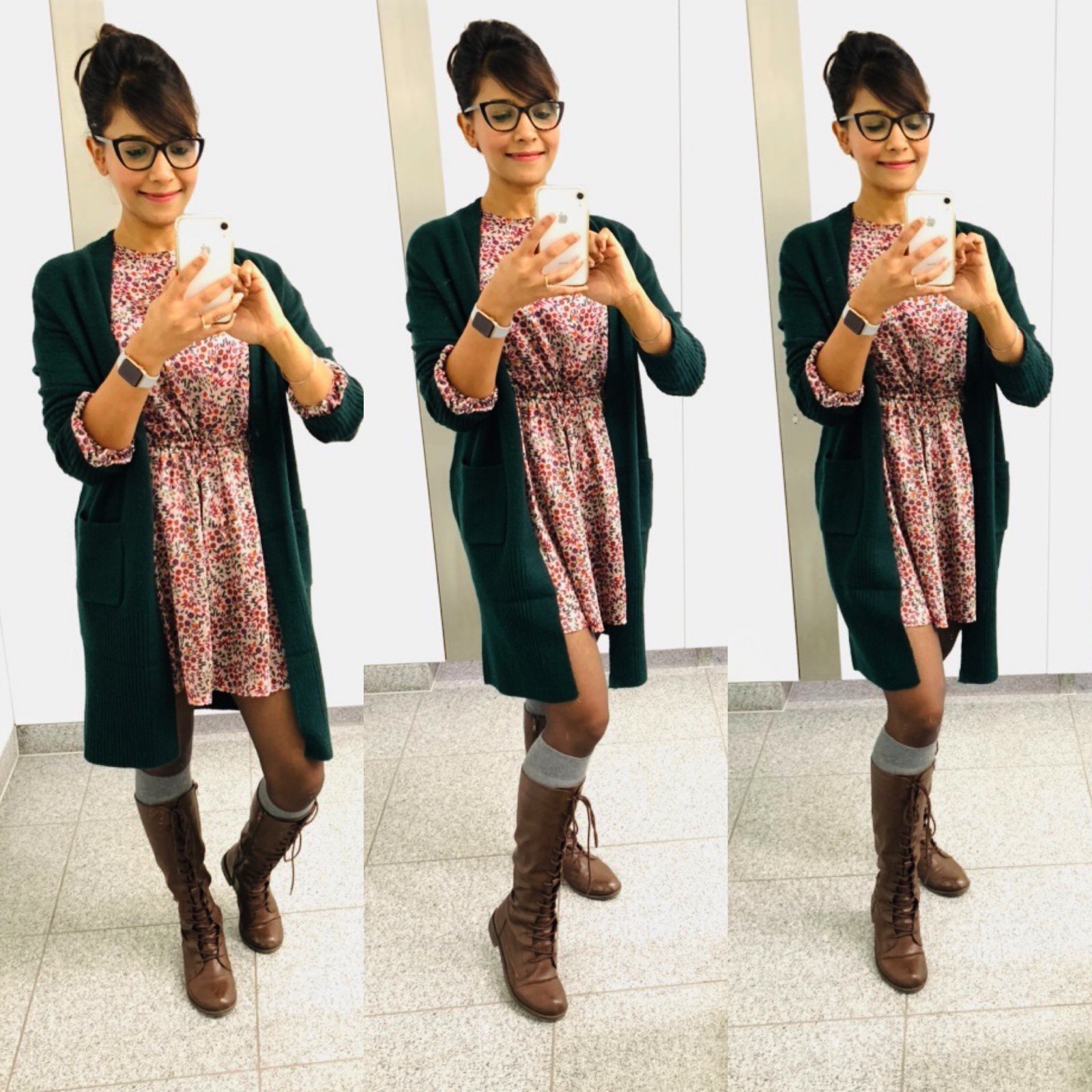 I absolutely love this yellow off-shoulder jumper – it's comfy, not so slinky and so vibrant!
Wear it with a skirt, shorts and tights, denim and let the colour do its magic! 😉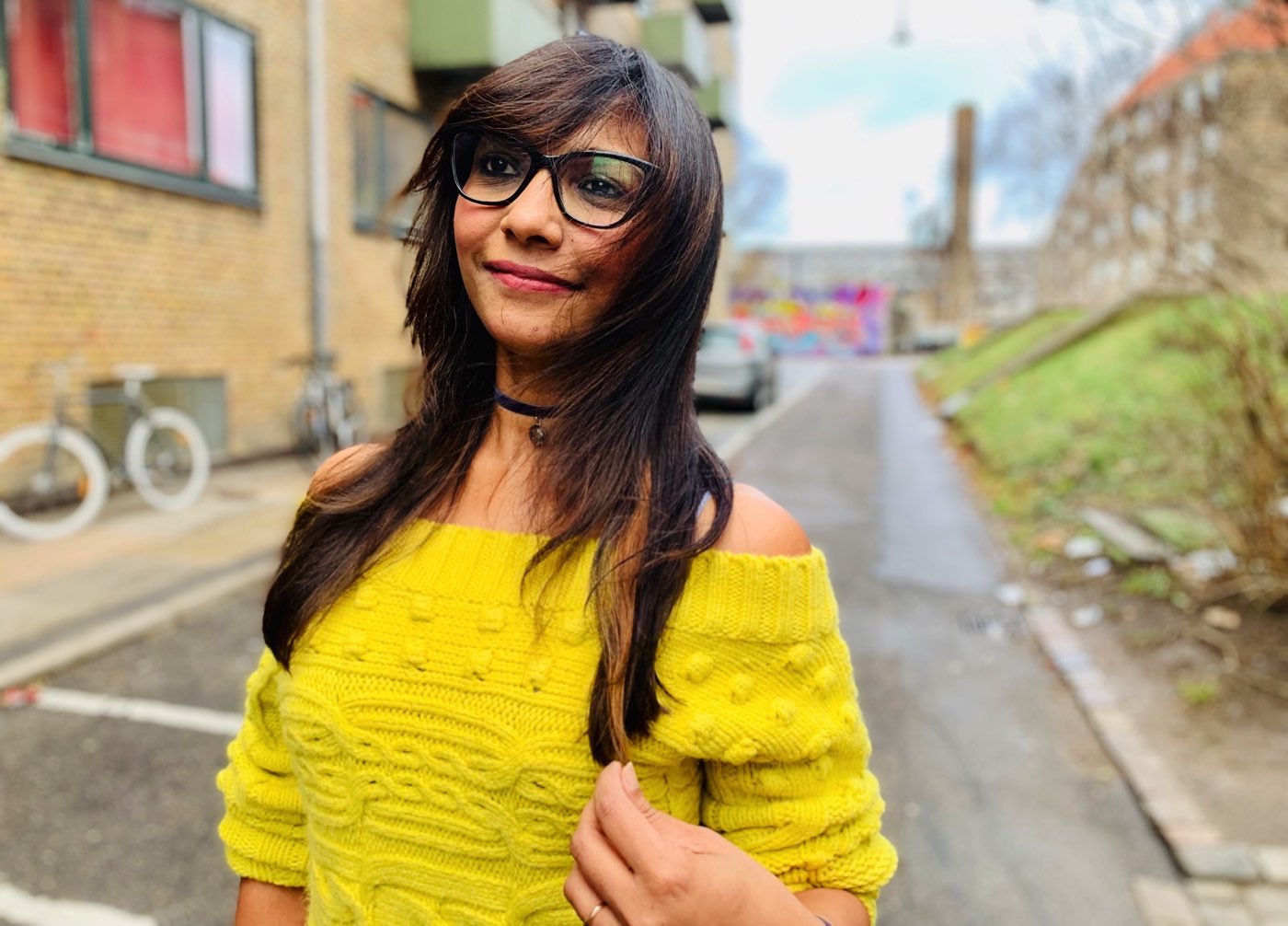 #4. Women Winter Hats
That's my personal favourite accessory for winters, it not only protects you from frigid winters but ups the game instantly because trust me no fashion is worth following if it doesn't give you the basic comfort of being yourself!
Be it cable knit bobble hat, beanie hats or Joshua hat, just keep a collection of some bright colour winter hats and they will serve you for a lifetime!
I never match them with my attire but they happen to always simmer through!
Not fibbing! 🙂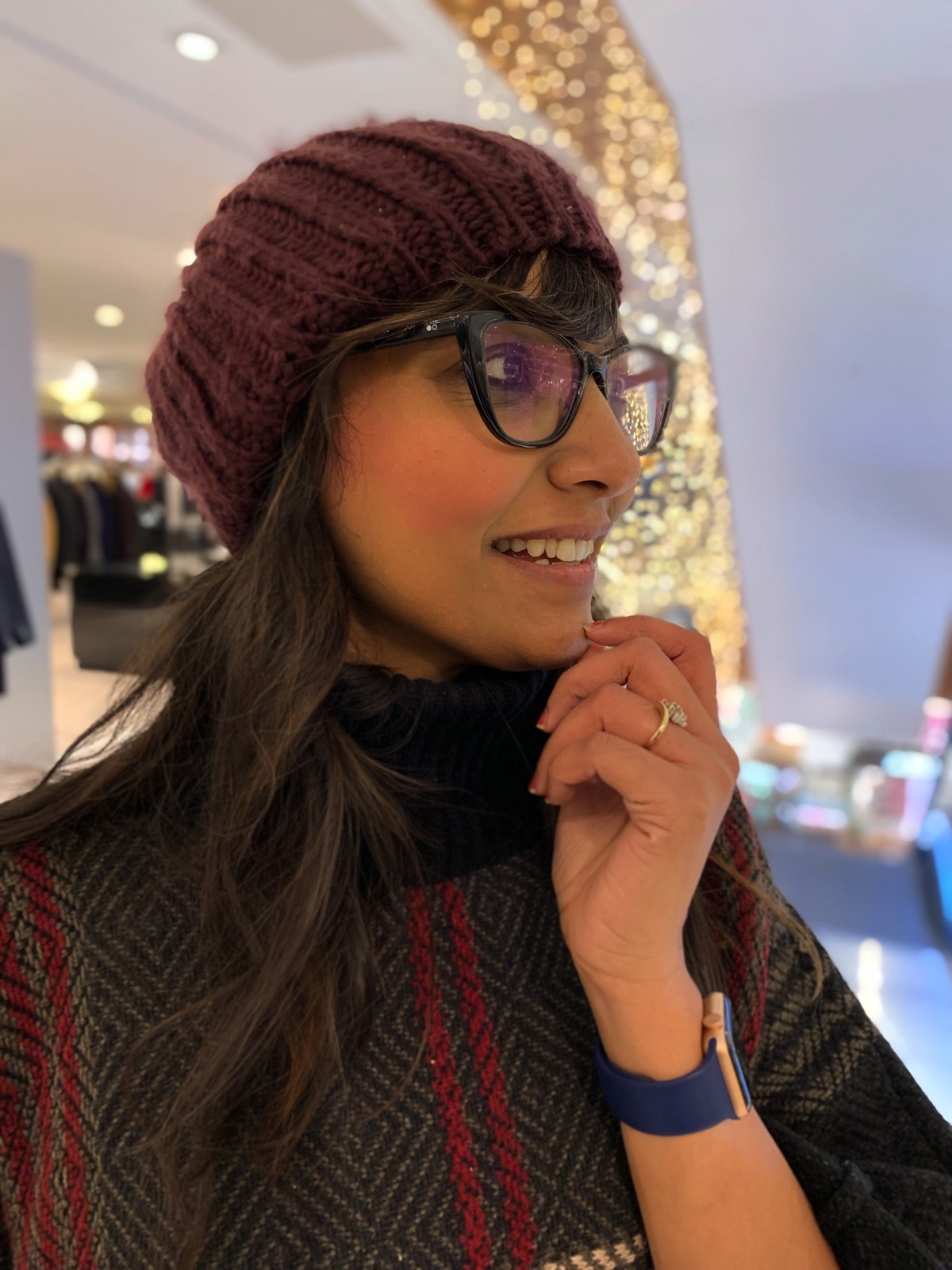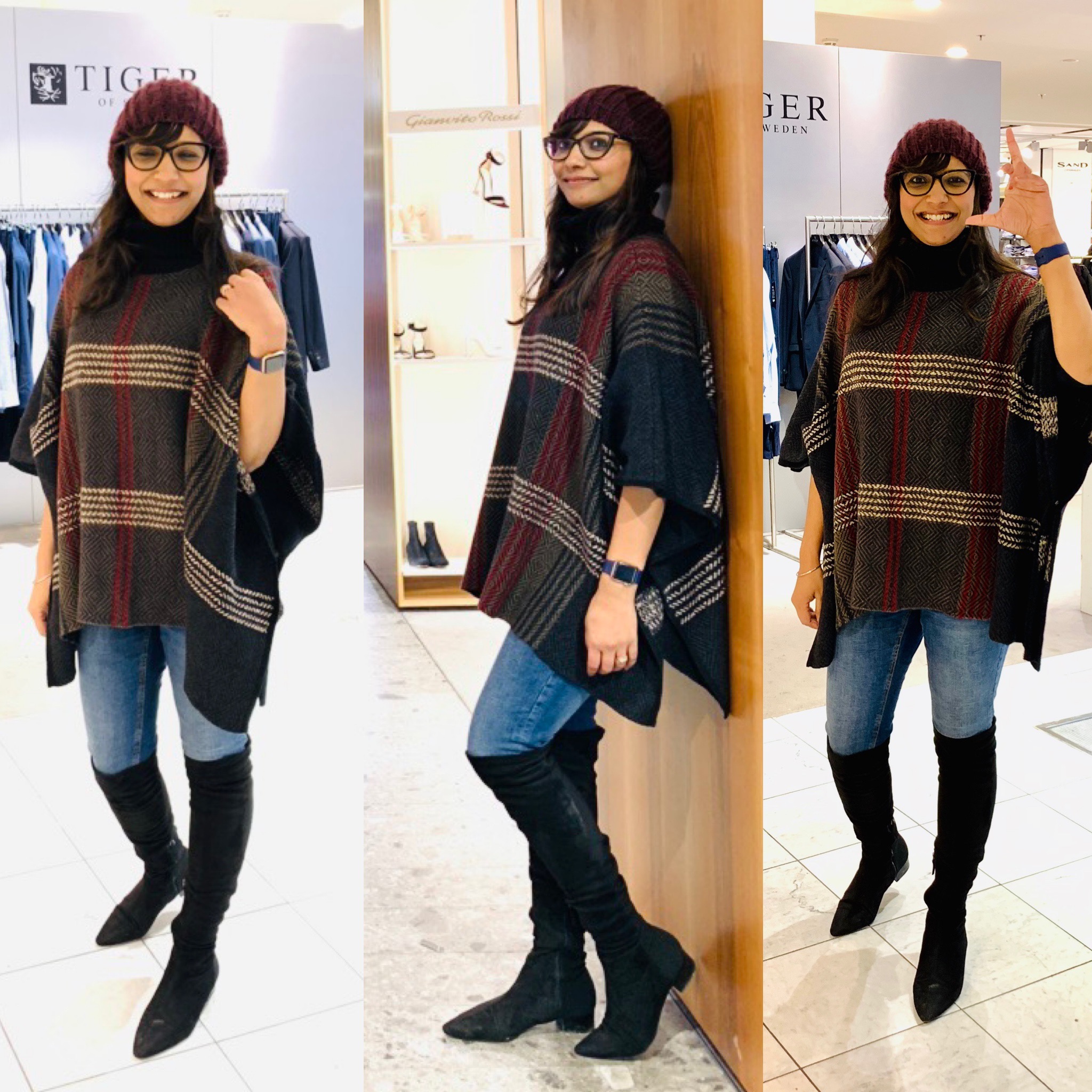 The below looks are utterly simple but I personally like the fact how my beanie hat just upped that simple look!
https://www.instagram.com/p/BsvecDCHc5r/
https://www.instagram.com/p/Br44GlyHOsd/
#5. Get over the borings
One simple tip:
It's hard to not go to your favourite brands as a go-to shop which can meet all your demands! But try to break that norm and rather shop from various places/brands/cities, just explore more!
And resist buying blacks/greys/navy just because they go with everything!
You will be surprised to see the patterns floating in your wardrobe after a while! <3
Winter Outfit Tips – Over to You!
I have tried to play with subtle pieces from my wardrobe because honestly those generally are the most comfortable ones and what else do you need to fight the freezing winter – comfortable fashion, warm hands and a cuppa! 😉
Over to you guys – hope you like the ensemble and will fetch some tips from the post to design your winter fashion outfit in 2019 and beyond.
Do share your thoughts and feedback, and also post some more ideas in the comments for the readers.
Let's contribute together to the fam! 😉
If you liked my post, do me a favour and share this post with your friends on Facebook, Twitter and Instagram.
Let's connect on Instagram <3
Pin this post on Pinterest to read later.